CTV adds primetime cooking show to midseason
The new culinary show follows season three MasterChef Canada-winner Mary Berg as she preps dishes inspired by loved ones.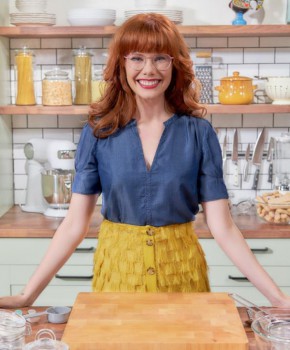 Production is underway in Toronto on Mary's Kitchen Crush, a new cooking series starring season three MasterChef Canada winner Mary Berg (pictured).
Produced by Proper Television for CTV, the 30-episode half-hour series follows the chef as she makes original recipes inspired by her family and friends.
The cooking series is set to air as part of CTV's 2019 midseason lineup on CTV and Gusto, in addition to streaming on the net's new lifestyle brand, CTV Life. The show was originally announced as part of the network's 2018/19 Upfront, however it was originally announced only for Gusto.
While no date and time have been set for Mary's yet, primetime, non-competitive cooking shows are a rare pick for the network. Conventional networks have often invested in competitive cooking shows, such as MasterChef and its Canadian counterpart on CTV; the Gordon Ramsey-hosted Hell's Kitchen on City; The Great British Bake-Off and The Great Canadian Baking Show on CBC. Instructional and lifestyle-centric shows have often aired on specialty.
Berg's season of MasterChef Canada in 2016 was a ratings smash for CTV, pulling in an average of 1.41 million viewers across the 15-episode season.

In addition to taking home the MasterChef Canada crown, Berg previously hosted Fibe TV1′s Mary's Big Kitchen Party (8 x 20 minutes), a miniseries where she and a guest prepared feasts based on various topical themes. As part of Gusto's Dinner and a Movie presentation, clips of Berg creating themed recipes to pair with each film, also aired.
Exec producers include Proper's VP and creative director Cathie James, VP of production Lesia Capone and the prodco's exec producer Allison Grace. Garrett Whip is a series producer on Mary's Kitchen Crush, while Bell Media's Tina Apostolopoulous serves as a production exec on the show.
This story originally appears in Playback.