Spotted! Skittles goes trick-or-treating
There's a house running wild in Toronto this week – but it comes bearing gifts.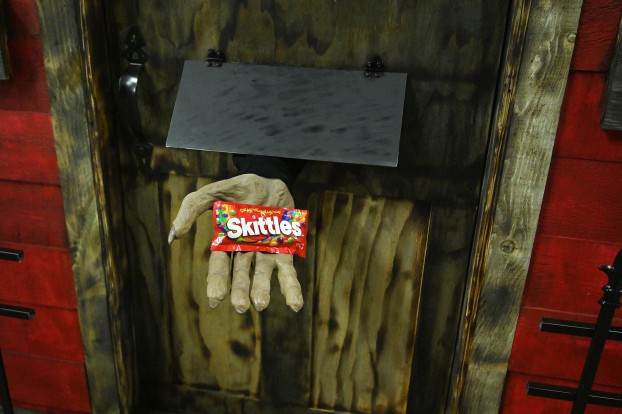 Did you hear about the house that trick-or-treats you?
That might sound like a set-up for a bad joke in a stand-up comedy routine, but candy maker Skittles has done just that. The Mars-Wrigley Confectionary-owned brand will celebrate Halloween by rolling out (literally) a small mechanical house on wheels that will travel from home to home across Toronto in advance of Halloween dispensing candy.
Diana Frost, VP of marketing for Mars-Wrigley Confectionary, explained that this was partially part of an effort to simply do something a little unexpected and offbeat for one of the biggest candy shopping times of the year. However, it was also rooted in an effort to appeal to teens.
"We've found in our research that at a certain age, people lose their Halloween spirit, or it becomes more frowned upon," she told MiC. "Children stop dressing up or trick-or-treating as early as the age of 12. We're doing this to show that everyone should still enjoy Halloween, whether or not you're actually going out."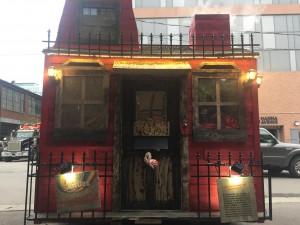 It's not the first time Skittles has done something a little kooky around the holidays – last year, it rolled out a mysterious "no-cash" vending machine for Friday the 13th, and one of the stunts it's best known for is the 2016 Holiday Pawn Shop, which allowed shoppers to trade their unwanted Christmas gifts for Skittles.
The house has already cropped up in a few areas of Toronto today as part of a media tour, but the activation takes off in full-force tomorrow night. The house will wheel its way around Toronto neighbourhoods, inviting families out of their homes to come outside, knock on its door and grab a handful of candy. Frost said it was key to do this before Halloween, in order to drum up enthusiasm before the actual day takes place.
Frost said it's targeting neighbourhoods with high concentrations of teenagers and Gen Z-ers in order to engage with young people who might be reluctant to trick-or-treat. It's starting in the downtown neighbourhood of Church and Gould, which has a high concentration of community centres, athletic facilities and, of course, the Ryerson University campus. It's then making its way to the Ronald MacDonald House on Gerrard St. as part of a partnership with the non-profit organization to provide candy for the young people there. It will then head south to Poulson Pier, stopping along the way for anyone who wants a handful of candy.
Throughout the night, #HouseThatTrickOrTreatsYou will be promoted on Twitter, where people can follow along. The brand is also urging those who come across the house to take photos with it and post it under the hashtag.
Skittles worked with MediaCom Beyond Advertising on the activation, as well as DDB on creative and Harbinger on PR.