Durex taps digital for awareness campaign
An influencer and content-led strategy will help the condom brand communicate a message of "passion and compassion," says Adrian Capobianco.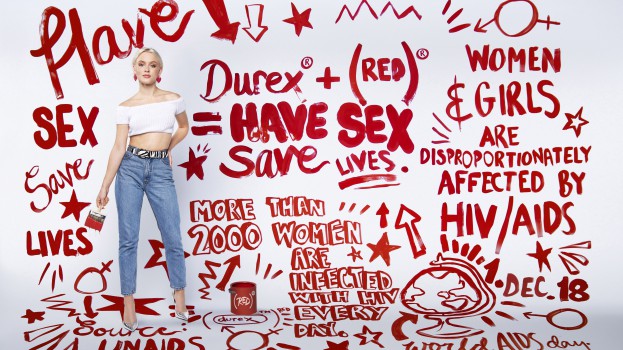 Durex has embarked on a three-year global partnership with AIDS charity Red – commonly stylized as (RED) – pledging $5 million in support for its mission to end AIDS. Along with the partnership, it has launched a massive digital campaign to get the word out to Canadians.
The condom brand wanted to create a campaign that engaged Gen Z. Tapping Dentsu Aegis Network shop Vizeum Canada, Durex launched what agency president Adrian Capobianco says is an almost entirely digital campaign (he says there's a small traditional media component, but the vast majority of the focus is on digital) to cut through the noise of a crowded market.
Capobianco says the goal is to have an an "in-your-face" approach while also keeping a compassionate and socially aware approach to the charity-focused messaging. The hashtag around the digital content, "#HaveSexSaveLives," plays into the themes Durex set out from the start: "passion and compassion."
One of the main pieces of the campaign is a content partnership with Vice to create custom content around sex and relationships, while also commissioning a sex survey, which will fuel insights for future campaigns. The brand will also engage in a one-day Snapchat takeover tomorrow, Dec. 1, through a paid campaign targeting the Gen Z audience on World AIDS Day. Content will also run across Facebook and Instagram.
Capobianco tells MiC that "given the audience [the brand] is going for, it makes sense to be a very digital-centered campaign." He describes the campaign as a "good-size effort" for the client in terms of its scale.
Vizeum also paired with Dentsu's content arm, The Story Lab, to engage with local influencers through the Bell Media-owned Much Digital Studio and create content related to the brand's mission of spreading awareness through positive messaging. That content will be posted on the brand's owned social and digital channels. According to Capobianco, more than 100 pieces of content were created for the campaign.
While Capobianco says Durex has generally engaged in plenty of digital media buys for a number of years, "for this campaign it makes sense to go all-in on digital. We wanted to make it a very content-driven, conversational campaign."
Global spokespeople for the traditional elements of the campaign include Zara Larsson, Thandie Newton, Tyler Oakley and Christian Navarro.
The campaign has been in market since Nov. 12 and will run until the end of the month. While Capobianco couldn't offer exact engagement numbers yet, he said it is so far tracking ahead of its benchmarks and the agency has seen early indications that the campaign is being well-received.