Big Bang returns with a bang: Numeris
The CTV trio of Big Bang, The Good Doctor and Young Sheldon once again dominated the rankings.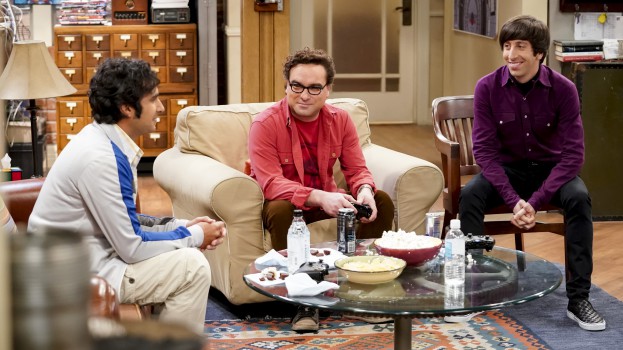 No alarms and no surprises: once The Big Bang Theory got back on the broadcast schedule, it was the top-viewed program in Canada.
For the week of Dec. 3 to 9, the CTV comedy was the highest-ranked of all single-night programs on the Numeris charts, taking an average minute audience of 3.69 million viewers. It was followed by two other CTV shows, drama The Good Doctor and family comedy Young Sheldon.
Rounding out the top-five were Global programs Survivor and FBI with 1.83 million viewers each.
Big Bang took all Anglophone markets with the exception of Montreal, where its prequel Young Sheldon took 4,000 more viewers.
In the French market, awards program Gala les Olivier on SRC took the top spot.
Canada
1. The Big Bang Theory on CTV Thursday at 8 p.m.: 3.69 million viewers
2. The Good Doctor on CTV Monday at 10 p.m.: 2.86 million viewers
3. Young Sheldon on CTV Thursday at 8:31 p.m.: 2.66 million viewers
4. Survivor on Global Wednesdy at 8 p.m.: 1.95 million viewers
5. FBI on Global Tuesday at 9 p.m.: 1.83 million viewers
Montreal (Anglophone)
1. Young Sheldon on CTV Thursday at 8:31 p.m.: 109,000 viewers
2. The Big Bang Theory on CTV Thursday at 8 p.m.: 105,000 viewers
3. The Good Doctor on CTV Monday at 10:p.m.: 101,000 viewers
4. Criminal Minds on CTV Wednesday at 10 p.m.: 67,000 viewers
5. The Rookie on CTV Tuesdya at 10 p.m.: 63,000 viewers
Quebec (Francophone)
1. Gala les Olivier 2018 on SRC Sunday at 8 p.m.: 1.34 million viewers
2. L'échappée on TVA Monday at 8 p.m.: 1.21 million viewers
3. Les enfants de la télé on SRC Wednesday at 8  p.m.: 1.13 million viewers
4. Boomerang on TVA Monday at 7:30 p.m.: 1.09 million viewers
5. Ruptures on SRC Monday at 9 p.m.: 906,000 viewers
Toronto/Hamilton
1. The Big Bang Theory on CTV Thursday at 8 p.m.: 864,000 viewers
2. Young Sheldon on Thursday at 8:31 p.m.: 615,000 viewers
3. The Good Doctor on CTV Monday at 10 p.m.: 613,000 viewers
4. FBI on Global Tuesday at 9 p.m.: 501,000 viewers
5. Survivor on Global Wednesday at 8 p.m.: 488,000 viewers
Edmonton
1. The Big Bang Theory on CTV Thursday at 9 p.m.: 146,00 viewers
2. Oilers vs. Blues on Sportsnet Wednesday at 6:11 p.m.: 118,000 viewers
3. Young Sheldon on CTV Thursday at 8:31 p.m.: 110,000 viewers
4. The Rookie on CTV Tuesday at 8 p.m.: 96,000 viewers
5. The Good Doctor on CTV Monday at 8 p.m.: 95,000 viewers
Calgary
1. The Big Bang Theory on CTV Thursdy at 9 p.m.: 182,000 viewers
2. The Good Doctor on CTV Monday at 8 p.m.: 147,000 viewers
3. Young Sheldon on CTV Thursdy at 9:31 p.m.: 117,000 viewers
4. NCIS on Global Tursday at 9 p.m.: 99,000 viewers
5. The Rookie on CTV Tuesday at 8 p.m.: 98,000 viewers
Vancouver/Victoria
1. The Big Bang Theory on CTV Thursday at 8 p.m.: 251,000 viewers
2. The Good Doctor on CTV Monday at 10 p.m.: 232,000 viewers
3. Survivor on Global Wednesday at 8 p.m.: 201,000 viewers
4. The Conners on CTV Tuesdy at 8 p.m.: 166,000 viewers
5. FBI on Global Tuesdya at 9 p.m.: 163,000 viewers