The Nice List: Media
From unexpected sponsorships to ambitious shifts in media spend, here's what impressed us the most this year.
For the last few years, our colleagues at strategy have compiled an annual list of their favourite campaigns – those that weren't necessarily the superstars on the awards circuit, but stuck out nevertheless. But what about media? While creative can connect with consumers through different emotions, those ads wouldn't go very far if not for a strategic media plan, which is why MiC is highlighting some of the best executions from the year that was.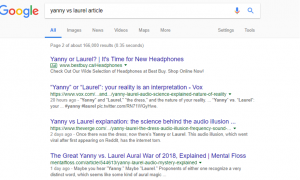 Yanny? Laurel? Google it
Catherine Phillips
Best Buy and Media Experts jumped at the opportunity to take part in a viral online debate earlier this year, launching a timely online campaign around one of the year's biggest internet sensations: Yanny vs. Laurel.
Launching on May 17, the keyword search campaign linked Best Buy headphones and speakers to Yanny and Laurel searches, proving that you don't need a huge budget or a ton of time to make a memorable campaign.
Keywords "Yanny" and "Laurel" took the internet by storm when a 2007 audio recording resurfaced on May 11. It was posted on Reddit on May 12 and was then Tweeted by YouTuber Cloe Feldman on May 14. To date, the original Tweet has more than 213,000 likes and 87,000 retweets.
Online furniture retailer, Article, set the stage for its evolving media strategy this year, switching up its media plan after seven years in the market.
DTC on TV
Catherine Phillips
While furniture retail Article has always been digitally focused, the Vancouver-based direct-to-consumer brand – which placed first on Canadian Business' Growth 500 list last fall and has seen over 56,581% revenue growth in the past five years – recently began switching up its spend, rolling out a campaign on social and YouTube in Canada and on TV in the U.S.
Part of its strategy involves looking beyond traditional social metrics when trying to understand its audience. Speaking about this to MiC last month, Article's director of marketing, Duncan Scott, explained that when it comes to attribution and measurement challenges, the brand opts to view how different channels work together broadly rather than focusing on singular metrics.
Rather than typecasting its audience as being young females in urban centers – which the brand recognizes as part but not all of its consumer-base – the company turns to psychographics as opposed to demographics to best reach its audience.
An OOH activation that (literally) pays off
Bree Rody-Mantha
OOH advertising is usually associated with upper-funnel and broad brand awareness. But with digital media taking OOH by storm, it's allowed marketers to experiment on more hyper-targeted, cross-platform campaigns. But what about one that allows passers by to actually transact on the spot?
In March, Care Canada tried its hand at that, with a Toronto-based DOOH activation that allowed people to make a donation to women and girls in need right there.
Using mobile pay technology, the boards featured a "tap to donate" message, which would pre-authorize donations of $5 from anyone who tapped their phone on the button. Catherine Ramsey, media planner at Jungle Media (which handled the buy), told MiC the stunt adds a "compelling aspect" to the campaign, and that it "bridges the gap between building impassioned awareness and making a real change in the moment."
Mazda had, earlier in the year, tried a similar activation, although the transaction was a bit more than $5.
Getting cultured at music festivals
Bree Rody-Mantha
There are some brands and categories we naturally associate with certain sponsorship opportunities. Hockey content? Try an iconic Canadian brand, like Tim Hortons. A big football game? Better go with beer. But we'll admit we don't typically associate music festivals with yogourt.
But when Danone brand Oikos Canada inked its first-ever sponsorship deal with the summer music festival Osheaga, we were delighted to see a different side of a brand we often associate with cheery daytime skies, chipper tennis players and health-conscious women in their 40s. The Osheaga partnership saw Danone sponsor a contest to win Gold passes to the event, and was part of an effort to grow Oikos' own Instagram following while engaging with a younger demo.
The sponsorship helped give a healthy kitchen staple into a more aspirational, Insta-worthy image.
An Interac-tive podcast experience
Josh Kolm
There's been a lot of hype around podcasting as a marketing platform for years, partially due to legacy players looking to replicate the success of their new direct-to-consumer competition that seemingly built their awareness through live reads by hosts. This year, numerous companies seemed to realize a more effective route might be not trying to match the volume of live reads bought by the Caspers and Nature Boxes of the world, but to create content more closely aligned with their brand by creating the entire podcast themselves.
Interac's "Earning Curve" was a great example of this, part of the payment company's push to add more B2B marketing to its previous consumer-focused campaigns. The podcast – created by agency partner Zulu Alpha Kilo and U.S. podcast network Gimlet – featured interviews with everyone from Peter Simons of La Maison Simons to Ryan Holmes of Hootsuite discussing topics and answering questions that might be on the minds of small business owners. In Gimlet's own promotion of the podcast, it also gave Interac mentions during episodes of "Reply All," "The Cut on Tuesdays," "Heavyweight" and "Startup," some of the best and most popular podcasts currently being produced.
Personally, I tend to hate listening to interviews with "thought leaders," especially when it comes to how to be successful in business. With a few rare exceptions, they tend to be speculative, rely on cliched platitudes and diminish the role of simple luck and opportunity in their success. But I'm not the entrepreneurial sort; for the kind of small business owners Interac is looking to reach, interviews with everyone from department store CEOs to startup founders are the exact kind of guidance they are looking for, and might provide an extra utility by uncovering bits of knowledge they hadn't previously considered.