Behind the Buy: Tresemme has fun with OOH
OOH isn't normally used to showcase individual product points, but new sensor technology allowed Mindshare to take a new approach.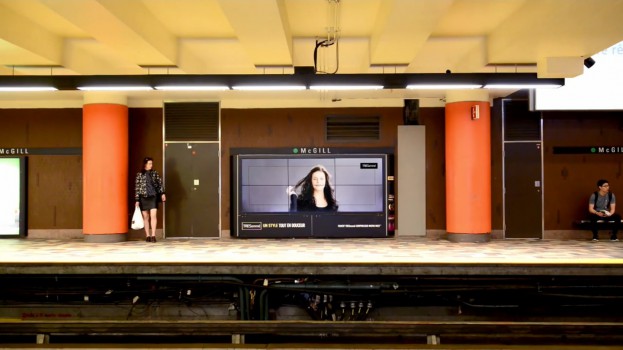 OOH is rarely seen as a key piece in a promotional campaign for beauty or cosmetic products.
In a category where video is often required to showcase shades and styles and see the product in action, a billboard can be seen as little more than a mass awareness play. But a recent launch campaign for Tresemmé, spreaheaded by GroupM's Mindshare Canada, flipped that narrative, using OOH to showcase a key product point while sticking to TV for the mass play.
When Mindshare was asked to submit work it was proud of for Behind the Buy consideration, the shop said the launch campaign for Tresemmé's Compressed Micro Mist hairspray stood out. While the media mix – TV as the hero, with enhancements from social, digital and OOH – was fairly typical for a buy on that brand, it used first-to-market technology with its OOH vendor, Astral, allowing the OOH buy to play a different role within the broader campaign.
The product: Tresemmé's new Compressed Micro Mist hairspray launched mid-last year. The product markets an "invisible," more natural hold than typical aerosol hairsprays and a different style of bottle.
The insights: Is hairspray seen as slightly old school? Mindshare and Tresemmé's research says so, according to planning manager Jenny Lee.
"The whole innovation around this product is trying to drive up the styling in the hairspray category among millennial women," says Lee. "They're not using it on a regular basis." Current trends, says Lee, tend to favour more "natural" styles such as beachy waves or simple blow dries. Hairspray, she says, has become seen as more of a "special occasion" product for events such as weddings or proms. However, numerous fashion magazines and stylists have advocated the use of micro mist-style hairspray products, and Tresemmé is among the growing number of drugstore brands to launch one.
The mass play: TV was the biggest channel for investment, according to Lee, to build mass awareness. Social and digital quickly followed as the supporting players in terms of ad spend. TV was the biggest spend because it was targeted toward the broadest demographic. However, she said, social was key as it helped target women age 18 to 34.
The niche: OOH isn't typically used to showcase product innovation, said Lee, but the campaign messaging allowed the agency to incorporate outdoor advertising in a fun way. It installed digital ad spots in Montreal subway stations which saw the creative triggered when the subway rolled in. The gust from the subway appeared to make the model's hair fly in the wind, demonstrating the flexibility of the hairspray.
Lee explains that the installation helped to draw heads while showcasing what was special about the product without having to go into the kind of detailed explanations usually reserved for TV and advertorial. It was the first time Tresemmé – and Mindshare – used custom sensor technology to change the creative depending on the environment. "That's a technology that didn't exist prior to this campaign. It took a lot of partnership and hard work with our vendor."
"You're not trying to deliver too many key messages, because it's an outdoor environment, but we definitely wanted something to make them look." Although Lee says OOH was one of the smallest areas of media spend, the activation went live at the end of May and ran all summer. Mindshare chose to activate at stations that were downtown and close to McGill University in order to better target the millennial demo.
Rounding out the campaign was a small print buy.
Also playing a key part in the campaign was Michael Marcy, director of strategy and Mindshare.
Take a look at Astral's video to see how the sensor technology worked:
TRESemmé Montreal Subway from Astral on Vimeo.