ICYMI: Brands take centre stage on soccer uniforms, Nurses takes shape
Plus, digital OOH tech company FrontRunner is going to MaRS.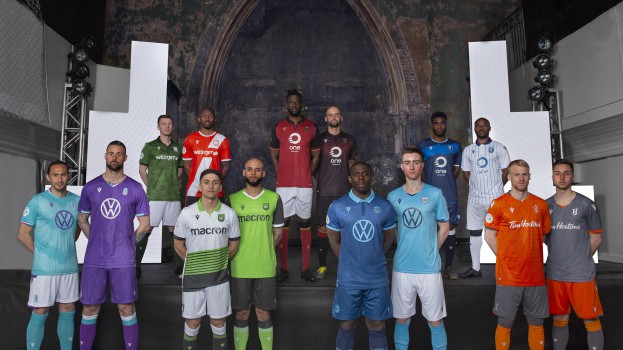 Macron unveils CPL league kits
Macron, which was previously announced as the official league kit provider of the upcoming Canadian Premier League, this week unveiled its kits for the founding seven clubs of the upcoming soccer league. HFX Wanderers FC, York9 FC, Forge FC, Valour FC, FC Edmonton, Cavalry FC and Pacific FC squads now all have both home and away uniforms, which prominently feature logos from sponsors for both the league and individual teams, such as Tim Hortons (Hamilton's Forge FC), soccer streamer One (Winnipeg's Valour FC and FC Edmonton), WestJet (Calgary's Cavalry FC), VW (Halifax's HFX Wanderers and Vancouver's Pacific FC) and Macron itself (York Region's York 9 FC). Partnership rights were negotiated by Canadian Soccer Business.
FrontRunner gets a boost for the future
Digital OOH tech provider Frontrunner Technologies has accepted a prestigious invitation to join the MaRS Discovery District in Toronto. Besides moving into the space, the MaRS hub will help FrontRunner by providing the company with advice, market intelligence, access to capital and connections to mentors, post-secondary institutions, potential investors and labs to test concepts. FrontRunner is known for creating the WindowFront Matrix, which deploys vibrant digital content on windows and storefronts, creating ad placements where previously only a pane of glass existed. It also sells the inventory programmatically. The company was founded in Saskatchewan. Since its founding in 2008, MaRS-supported ventures have cumulative revenues of more than $3.16 billion.
Global announces Nurses cast
The new Canadian original drama Nurses, set to premiere on Global later this year, has unveiled its cast. The 10-episode drama, which centers around the lives of five rookie nurses, will star Tiera Skovbye (Riverdale), Natasha Calis (The Posession), Jordan Johnson-Hinds (Blindspot), Sandy Sidhu (Home Before Dark) and Donald MacLean Jr. (Workin' Moms). Production is underway in Toronto. Upon its premiere, Nurses will join the growing slate of popular medical and emergency room dramas, from Global's hit New Amsterdam to CTV's dramatic The Good Doctor and The Resident, as well as first responder drama 9-1-1 and fellow Canadian original Mary Kills People.
Read more about the creative strategy behind the show from Nurse's showrunner Adam Pettle in Playback.