Spotted! Ivanhoe-Cambridge gets experiential
The mall company is adding a sense of whimsy to its properties to enhance the shopping experience and communicate its brand messaging.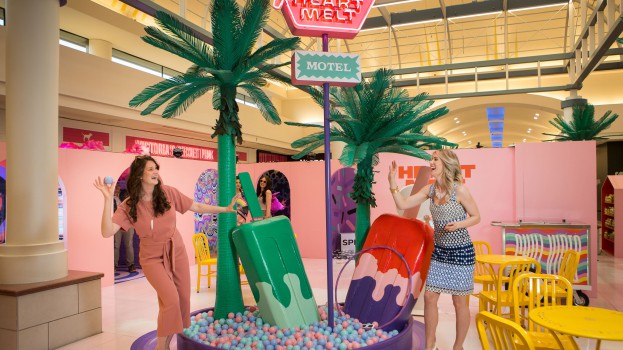 It's not easy to grab the attention of a millennial, but making self expression, originality and creativity integral concepts of your brand might just get them to engage.
Ivanhoé Cambridge, the property management company behind major malls such as Vaughan Mills and the Oshawa Centre, is experimenting with that and more with Heartmelt Motel, the first in a series of new experiential activations shoppers can expect throughout the coming year.
"It's really like a playground," Tracy Smith, SVP of marketing and innovation at Ivanhoè Cambridge, tells MiC. "Very colourful, very playful."
In five distinctly themed rooms, the exhibit tugs at the senses as guests are invited to lay beside a gummy ball pool, beneath cotton candy skies amidst the original concept installation which draws from the retro feel of the roadside motels of 1970′s California.
It's an interactive space where you're not dictating a path, but encouraging users to experience it in their own way, Smith says. "Something that speaks to… millennial women and is important to them."
The exhibit has already gone live at Southgate Centre in Edmonton and Bayshore Shopping Centre in Ottawa, with five more to come: Guildford Town Centre in Surrey, B.C.; Oshawa Centre; Mapleview Shopping Centre in Burlington; Mayfair Shopping Centre in Victoria and Place Montreal Trust.
"We want to inject fun back into shopping," Smith says. "There seems to be this notion that shopping has become a task when competing with the convenience of shopping online."
While the team had their own designs of how people would interact with the space, Smith says it has exceeded what they imagined when meeting with micro influencers to consider the digital element.
"They're creating their own moments, their own view of the world through [the exhibit] and we're seeing a lot of that on social media," he says.
Experiential marketing is nothing new for shopping centres, Smith points out – Cadillac Fairview, the management company behind major malls such as Sherway Gardens and the Eaton Centre has invested in experiential plays such as its "Inspiration Stations" and its pop-up shops.  For Ivanhoé-Cambridge, Smith says it's all about displaying "the living expression of our brand."
"Higher fashion content, anchored in the notion of self expression, originality and creativity," he explains.
Montreal-based creative agency Tux worked with Ivanhoé Cambridge from concept and design right to build.
Shopping centres have evolved, says Smith. No longer is it just a place to make a purchase, but also to gather, to meet friends, to form community. "Heartmelt Motel is a great expression of that."