TSN's OverDrive signs The Source as lead sponsor
The deal will see The Source expand on its previous segment sponsorship.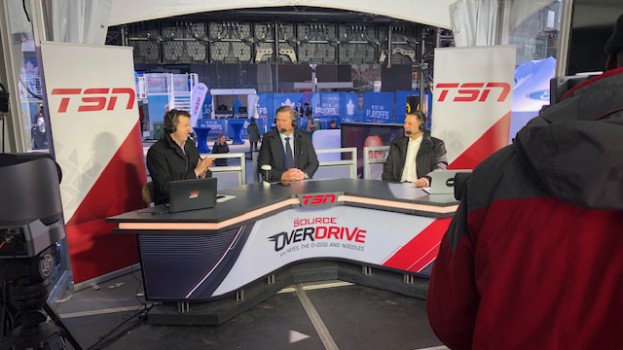 Teaming up in the name of tech, TSN has signed The Source as presenting sponsor for OverDrive, the network's afternoon staple that takes its audience behind the game.
The Bell Media-owned sports network joining forces with its largest tech retailer isn't new, but the deal expands on past successes like its ongoing "Tech in 60″ segments hosted by The Source marketing specialist (and sports expert) Rachel Hunter. The Source will now be integrated through on-screen promos, additional special features, on-set branding, show logos, product integration and more. OverDrive airs weekdays from 4 to 6 p.m.
When the retail chain began working with TSN in 2018, Agnes Roter, marketing director for The Source tells MiC the collaboration brought great results (although she did not elaborate on those results) and a natural opportunity for a longer commitment of larger proportions.
Roter calls the new endeavour an "opportunity to action some stories from a tech perspective."
"You may have the latest wearable but you'd really like to know which one is the best for you," she says. "Are you working out a lot? Do you need to be connected? Those are very different needs."
The strategy is "a big win" over a more traditional approach like a TV ad, she points out. From a brand perspective, Roter says the challenge is to demonstrate the unique prowess The Source associates offer in-store.
OverDrive, hosted by Bryan Hayes, Jamie "Noodles" McLennan and Jeff "O-Dog" O'Neill offers insights through interviews with players, coaches and industry insiders with personal anecdotes dusted with humour.
"TSN is a premium property with great reach in terms of audience and alignment with us," Roter says. "It allows us to pulse in and out with product news in context of the expertise."
Many Canadians are sports fans, she says, and working with the network is an opportunity for the brand to help viewers take home entertainment to the next level.
"Our blueprint is to find ways to show Canadians how tech can be leveraged in their lives," she says.
The ability to have a longer term partnership to tell stories is invaluable, she adds. "Tech changes all the time so being able to work with a partner who responds to that is really helpful."