Spotted! Fujifilm shows what a smartphone can't do
Even if you're not zooming down the Gardiner, something else is.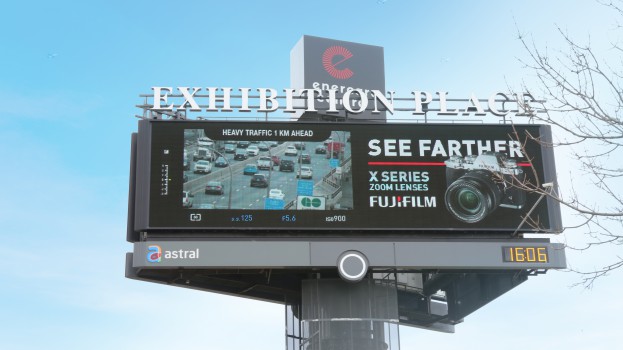 Few people would ever describe a rush-hour trip on GTA highways as a "zoom."
But a new OOH stunt by Fujifilm showcased a different kind of zoom.
Last Thursday, a Fujifilm lens was mounted on top of a billboard on Toronto's Gardiner Expressway, giving drivers a crisp and clear glimpse of what they couldn't see up ahead. Coupled with traffic data, the real-time image served to promote qualities of Fujifilm's cameras that it says can't be imitated by a smartphone.
According to Statistia data provided by Dentsu, digital camera sales have dropped by 84% since 2010. The main driver behind that trend is the rise of Smartphones – models such as the iPhone X, Google Pixel and Huawei P30 Pro phone all boast camera capabilities that can produce photos with high enough resolutions to become OOH ads of their own.
But the campaign was built around broadcasting one quality smartphone cameras aren't known for: zoom capabilities.
Using real-time traffic data for OOH isn't a brand-new concept – it was the main driver behind VIA Rail's award-sweeping Data Vs. Car efforts last year – but Travis Cowdy, executive creative director at DentsuBos, says it was important that the images be crisp, clean and genuine. "It's an actual product demo," he says. "Astral offered to use their mounted cameras, but it was important that we retrofit an actual Fujifilm camera."
The idea was originally an entry in Astral's Carte Blanche competition two years ago, but Cowdy says the client was so pleased with the work, the two decided to work together and make the ad come to life. The client and agency worked directly with Astral vendor Jennifer Bidwell to secure the media buy.
The billboard activation will last four weeks, and is not part of a broader campaign effort by Fujifilm.