Torstar revenue continues to decline
Revenue declined by 11% overall as print remains a challenge, but digital subscribers are up.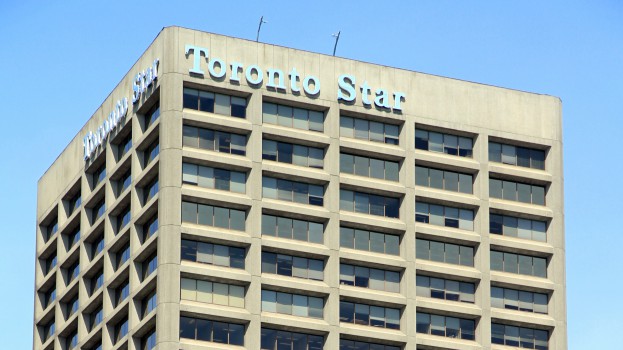 Revenue continues to drop across Torstar, according to Q1 results posted Wednesday.
The parent company of the Toronto Star released its earnings May 8 for the quarter ending March 31, 2019. Total segmented revenue came in at $131.2 million, down 11% year-over-year.
Revenue from community brands brought in $54.1 million, down from $59.8 million in 2018 while dailies came in at $64.3 million, down from $71.2 million. Digital ventures also took a hit, down to $12.8 million from $16.4 million, attributed to the April 2018 sale of Workopolis as well as lower revenues at EyeReturn and Vertical Scope, of which TorStar owns a 56% share.
Torstar is also facing losses from associated businesses it holds shares in, including Black Press (19% equity investment), Nest Wealth (22% interest) and Blue Ant (16% equity investment). This quarter's loss was $5.7 million, compared to a loss of $4.1 million year-over-year.
Print advertising remains a challenge for both the community and daily brands, accounting for just 31% of total ad revenue and a total of $41.2 million in Q1. The company says it is already seeing similar trends in the start of Q2. Digital revenues maintain its share of 19% of total ad revenue, bringing in $24.4 million.
Digital subscribers rose in line with expectations, to 15,000 from 10,000 in Q4, which the company expects to continue to grow, while the forecast for print subscriptions is to "deteriorate modestly" through 2019. In total, subscriber revenue represents 23% of the company's earnings, bringing in $29.6 million in Q1. Flyer revenue experienced a 6% decline overall, bringing in $24.4 million.
In Q1, Torstar struck a deal with Apple to provide its content on the North American subscription-based Apple News+ (that launched March 25) receiving subscriber revenue and selling advertising on the platform.
The company expects local digital advertising at the community news sites to grow, partly offset by expected declines in other digital verticals.