GE Appliances enters sports sponsorships with TFC deal
The diverse reach of soccer is the main motivator behind the alignment, which will focus on in-stadium activations as well as grassroots efforts.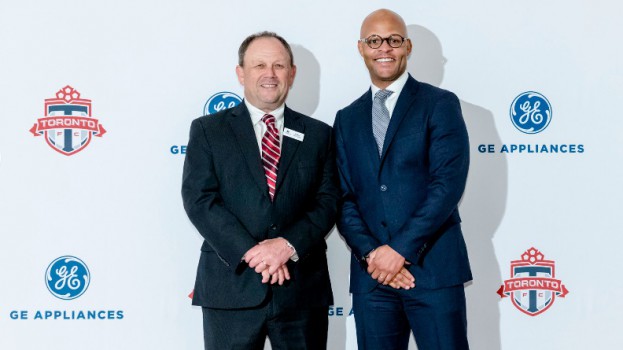 GE Appliances Canada has made its first foray into sports sponsorship, having signed a four-and-a-half-year sponsorship deal with Toronto FC.
The partnership will include in-stadium signage and activations at BMO field – "all the standard stuff," according to GE chief of brands Bob Park – but will extend to digital and social as well, especially when it comes to grassroots community opportunities.
"Soccer is one of the biggest sports in Canada in terms of involvement, and that's largely because the cost of entry for soccer is a lot less," Park tells MiC. "Sending a kid to soccer camp, for example, is a lot less restrictive than other sports. And the grassroots movement of soccer is so strong, we want to be able to partner with TFC in the community. I think we're going to reach a lot of families and do good things at the same time."
It's the diversity of reach that made GE Appliances – which has done one regional soccer sponsorship in the U.S., but has never done a major league sports sponsorship at all, or any sport sponsorship in Canada – choose soccer for its first major activity.
"I think many people in Canada are very aware of GE and very aware of our brand positioning," says Park. "Our brand motto and the direction that we want to go in terms of how we communicate with our consumers is 'good things for life.' And I think we've done a good job so far. But we're such a strong multicultural country with such strong immigration. There's a lot of people new to this country who don't necessarily know what GE is all about. And in terms of the team, the fan, the culture around it, Toronto FC is very diverse."
With Canada, Mexico and the U.S. to host a joint world cup in 2026, Park believes that soccer is "only going to get bigger," especially in Canada, and that spirit of diversity across the sport will remain strong, allowing GE to continue to capitalize on the alignment.
The partnership officially kicked off May 15. GE dealt directly with MLSE on the deal.
Pictured: GE Appliances president, Mike McCrea and Toronto FC GM, Ali Curtis