Spotted! Lollipops no one wants to talk about
An exhibit from the Canadian Centre for Child Protection and No Fixed Address brings to light the epidemic of online child pornography.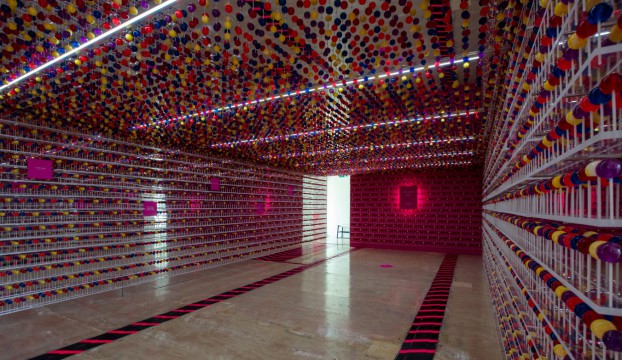 A four-day exhibit that drew thousands of visitors to the Stackt Market in Toronto was a scene bursting with liveliness and colour, but also one that sent a very serious message about child pornography.
Lollipop: The Exhibit Nobody Wants to Talk About was a collaboration between the Canadian Centre for Child Protection and ad agency No Fixed Address. In a standard storage container, 10,824 lollipops hung from the ceiling and from mirrored walls, each one representing a new image of child sex abuse that gets reported every 12 hours. Among them, small pink poster-size messages described to visitors how "lollipop" is the term predators use to refer to those they target.
"This is child pornography and nobody wants to talk about it," says Dave Lafond, president of No Fixed Address. The challenge, he explains, was to respect and empower the survivors without glorifying the predators. So, the team flipped the script. "To a child it's the innocence of a lollipop but to a predator that took that word and created a dark version of it, we thought, 'Why don't we tell people?'"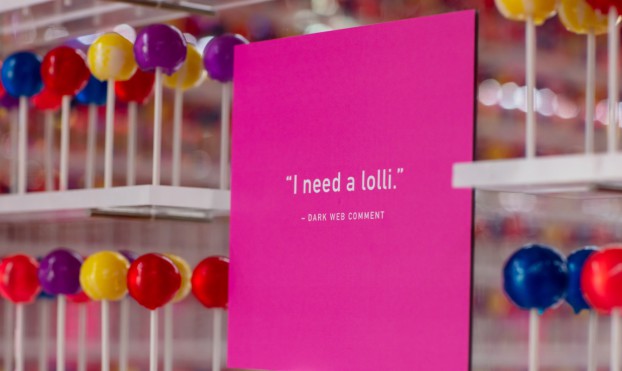 Among the array of yellow, blue, red and purple lollipops, the backlit posters revealed additional statistics, verbatim phrases pulled from online forums and audio recordings of survivors' stories. The material was collected using Arachnid, a web crawler tool developed by the Centre to detect images of child sexual abuse online.
There are currently some 10 million backlogged images. Arachnid found more than anyone anticipated, including more than 600 references to the term lollipop.
"The quotes you see featured were actually some of the safest ones to display," Lafond says. "It got darker and darker."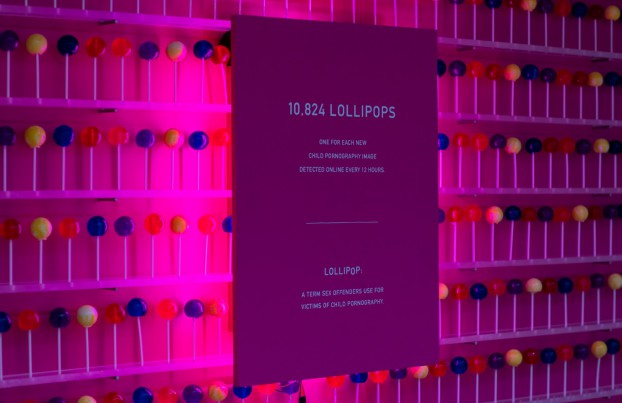 Ultimately the message with Lollipop is awareness, but also action. "You can't really do a campaign about child pornography," Lafond says, so instead the team worked on how they could pack emotion into an exhibit. "We witness some of the harm, we cry, we get mad and we do something."
Visitors were encouraged to share images of the installation online with #lollipoptakedown to "focus on the mission" of removing the backlogged images. "We want people to support the tool," he continues, pointing to tech platforms that the Centre would like to see mobilize with a unified definition of child pornography. Legally, there are numerous definitions globally, stalling the effort.
Due to the nature of the exhibit's content, it was age-restricted and guarded by security. As well, ambassadors of the Centre were on hand to provide support and context around the project. "We had to think through risk management more than a typical exhibit," Lafond says.
Sunday saw the most traffic as nearly 500 visited Lollipop, including Mayor John Tory who has since reached out asking that the exhibit have a second viewing on city property.
Lollipop garnered 3.5 million social impressions and 80 million earned media impressions. It was more traction than expected, Lafond says, including a response from a survivor who wrote: "Thank you so much for this exhibit. After seeing it today, it changed me for the better. I started standing up for myself in a good way. This exhibit does more than just inform people of reality, it is a force of love and respect."