Bell Media to acquire V, Noovo
The deal marks Bell Media's first move into French-language conventional TV and includes ownership of ad-supported VOD Noovo.ca.
By Kelly Townsend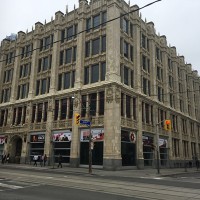 Bell Media has entered an agreement to acquire French-language conventional TV network V from Groupe V Media. The deal also includes digital assets such as the AVOD service Noovo.ca.
The acquisition, which is still subject to regulatory approvals, will allow Bell Media to add French-language conventional TV to its portfolio for the first time, according to Karine Moses, president, Bell Media Quebec, in a statement. She adds that it will create more "opportunities for viewers, advertisers, and content creators in Quebec" and says Bell Media will "work closely with the local Francophone production community in delivering highly engaging original programming on V."
Bell Media did not disclose the financial details of the acquisition. Original V programs include Occupation double, L'amour est dans le pré, and Un souper presque parfait.
Maxime Rémillard, Groupe V Media president and founder, called the acquisition "the best decision for the future of V" in a statement, citing difficulties "to ensure the sustainability of a conventional channel within a non-integrated group."
Groupe V Media specialty channels Elle Fictions and Max were not included in the acquisition. The media company previously announced its specialty music channel MusiquePlus will go dark at the end of August. V was originally acquired by Groupe V Media in 2008, rebranding it from its launch title Télévision Quatre-Saisons. The network was originally founded in 1986.
Bell Media previously sought to acquire French-language specialty channels Historia and Series+ from Corus Entertainment in 2018. The deal was blocked by the Competition Bureau. When the deal was terminated, Bell Media said it would "continue to seek opportunities to enhance our French-language content and grow media competition in Quebec."
V and Noovo.ca will join Bell Media's current roster of French-language channels, including Canal D, Canal Vie, Cinépop, Investigation, RDS, RDS Info, RDS2, Super Écran, Vrak, and Z.
This story originally appears in Playback.