Spotted! Nike showcases the sweeter side of running
The brand's new shoe is designed for reluctant runners – and so is this pop-up.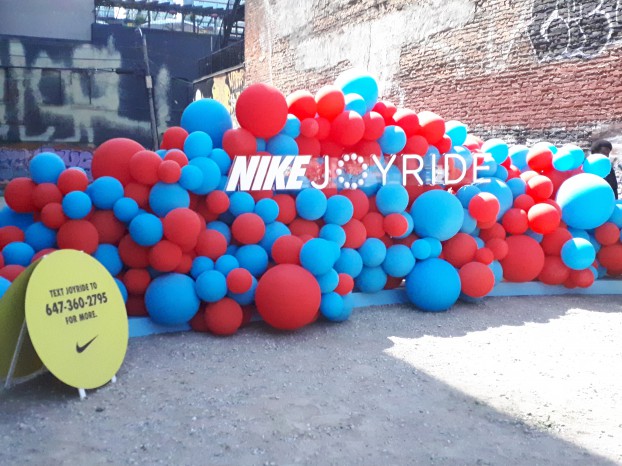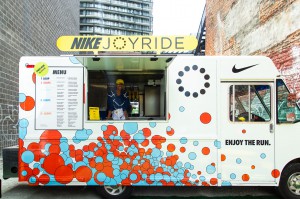 For some people, running is the feeling of freedom – the feeling of weightlessness, the joy of watching the world around you as you speed past, the sense of accomplishment and resilience as you pause and find yourself miles away from where you started.
For others, running is, well, not that. It's the feeling of bulging bunions and collapsible metatarsals, the jarring shock absorption in the tibia, the sense of weariness when you pause and realize you are miles away from where you started.
Nike's new running shoe – and the activation promoting it – are designed with the latter in mind.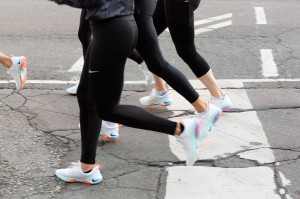 On Aug. 15, to mark the launch of the new Nike Joyride shoes, the brand created an interactive pop-up for Torontonians to trial the footwear. Springing up across various downtown and suburban locations throughout the week, the Joyride made its debut at a brightly coloured outdoor space in Toronto. Adorned with bright blue, red and white balls to match the colours of the Joyride's shoes (specifically, the spherical gel cushions in the soles), the downtown space served as an inviting hangout of sorts for interested shoppers.
While most retail pop-ups feature sampling, Nike's pop-up took things one step further. Rather than simply allow people to try on the shoes, which were stored in a large truck, Nike led the shoppers trialing the shoes on a run around the block. For every loop completed, the runners got to then grab a reward from the other truck – a food truck.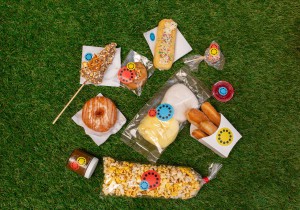 The food truck paired with local vendors such as Glory Hole Doughnuts and Sweet Jesus to reward people for their efforts with Toronto-centric tasty treats.
In a statement given to MiC by Nike external communications director Claire Rankine, the Joyride shoe was designed based on a common request from runners, "find a way to make running feel easy." The shoe, in return, was designed with strategic cushioning under the foot in order to provide more light-feeling experience. As a result, the activation is similarly lighthearted.
Nike designed the activation in-house. After initially hitting up heavy-foot traffic areas such as Queen Street West and the eastern beaches, Nike is moving to Toronto's Queen St. and Ossington Ave. neighbourhood this weekend, followed by the Harbourfront area on Sunday.