Bianca Andreescu makes more tennis history
The teenage tennis champion gave TSN a ratings boost that left Canadians wondering what our national sport really is.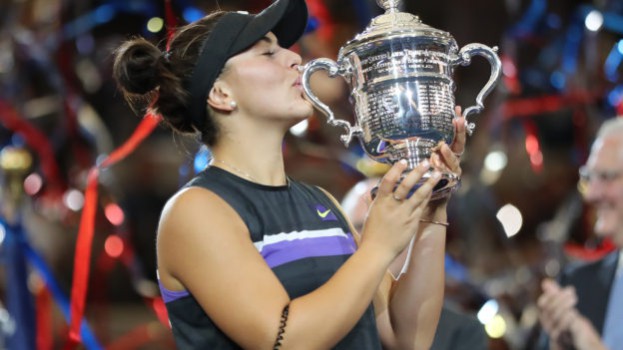 This past June, Canadian hockey fans had a tough pill to swallow: that with the Raptors' record-breaking, awe-inspiring rise to the top of the 2019 NBA Finals, perhaps there was room for more than one spot in the nations' hearts.
But another earth-shattering performance on a different kind of court may force Canadians to work another sport into their hearts. Bianca Andreescu, the Mississauga native who went from rising star to household name, became the first Canadian singles' player to win a Grand Slam title on Saturday – and besides beating tennis legend Serena Williams, Andreescu also beat the NHL's Stanley Cup Finals.
Drawing an AMA of 3.4 million viewers, a record for Bell Media-owned specialty nets TSN and RDS, the match drew a higher average audience than that of this past year's Stanley Cup Final of the Bruins vs. the Blues. It was the highest AMA for any tennis match across either of the networks.
More than 7.4 million Canadian viewers tuned in to some point of the match, with audiences peaking at 5:59 p.m.EST (5.3 million viewers) during Andreescu's second, match-deciding set.
Besides setting a tennis record for TSN and RDS, it was Canada's most-watched broadcast since the Raptors' historic performance. In Toronto, Andreescu's match drew a 58% share of the city's TV viewers , meaning that more than half of all people watching television in the city on Saturday afternoon were tuned into the showdown between the Andreescu and WIlliams. On digital, streaming across TSN.ca and the TSN app grew 145%, while tennis content drew 13 million impressions across TSN's social media platforms.
Throughout the entire tournament, audiences were up 69% from last year. Reach for the event came to 10.7 million viewers.