SickKids revisits an old media plan in a new way
OMD looked at insights all the way back to the first year of the VS campaign to build a unique Twitter and YouTube strategy.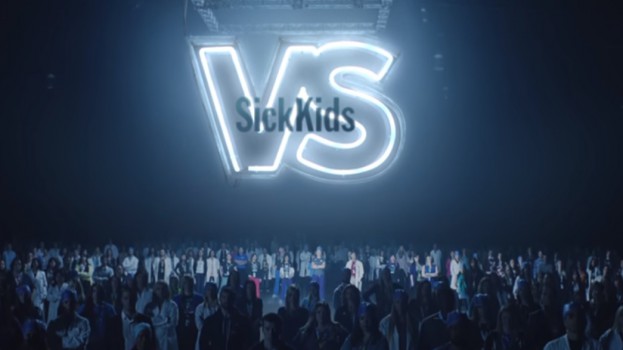 Kate Torrance, director of integrated brand marketing at the SickKids Foundation, has seen the last three years of marketing efforts pay off. After some hard work – much of it award-winning – from its media and creative agencies, SickKids has nearly raised $1 billion toward building its new hospital.
But now, the organization is at 75% of its $1.3 billion fundraising goal. Although that's a great achievement, says Torrance, there's still work to be done, and for many foundations, this is the hardest part. "People think you're well on your way to the finish line, so support drops off sometimes."
With $400 million left to go, SickKids is tasked with reminding Canadians why donations are important. And with that, Torrance says it's time to go back to its roots. The original "VS." campaign, launched three years ago, was mostly focused on the patients, whereas following iterations focused on supporters, parents and others. Now, Torrance says, it's getting back to the original message. "The reason anyone gets out of bed is the kids," she says. "We figure the best strategy for this year was to go back to the roots of the original 'VS.' launch."
It's a slightly different perspective – creative agency Cossette came up with a concept that showed what was "behind the versus" that still captures the same bold message of the original platform.
But with a video-heavy campaign, it also required some experimentation on behalf of SickKids' media AOR, OMD. "We worked really closely with them, knowing that we were going to have a lot of different video content at different lengths, and wanting to get enough view-through across those. They came back to us with a lot of new learnings from past campaigns. Some of it might seem like best practice for others, but they're new for us."
For one thing, it's using a learning from year one. "We were really amazed with the number of video engagements we got on Twitter," Torrance said, noting that it's not typically thought of as a "video" platform, but its videos worked very hard for SickKids. So it re-launched the original "Undeniable" spot from the first phase of the VS campaign in 2016. "This allowed us to capitalize on people who were already engaged in the campaign and used them as an amplifier."
Those who engaged with the creative on Twitter were asked by the platform if they'd like a reminder when the new creative goes live (which happened yesterday, Oct. 14). "This allowed them to raise their hands and say, 'yes, I want to be the first to see the new one.'"
Besides Twitter, SickKids is getting strategic about YouTube with a sequencing strategy. Those who are watching the SickKids content on YouTube – short videos about different patients' journeys and stories – will be served an opportunity to go to another video that fits in sequentially, then another video, with Torrence noting that the idea is to "get them moving down that rabbit hole."
Normally, she says, video is great for engagement but doesn't necessarily convert to fundraising. With the sequence storytelling, "it ultimately takes them from a big long-form piece to something more short-form, tactical and hard-working."
Supporting the video is TV, cinema and OOH, which are for "pure reach and awareness." The OOH buy is concentrated across the Greater Toronto Area, including full TTC wraps, 200 static and digital faces and digital spectaculars, as well as advertising in malls such as the Eaton Centre and advertising in MLSE properties (such as rink boards).
While paid media began yesterday, the first two weeks of the phase are all about brand-building and awareness. Beginning Oct. 28, the tactical, drive-to-donation performance media will ramp up and run until the end of November.