Trudeau appoints rookie Quebec MP as heritage minister
Steven Guilbeault, elected for the first time Oct. 21 inherits the portfolio from fellow Quebec MP, Pablo Rodriguez.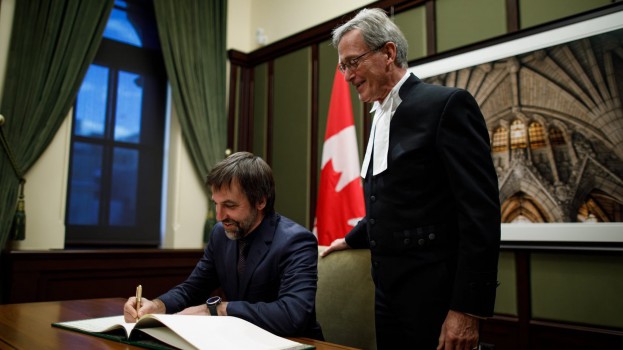 Steven Guilbeault, Liberal MP for the Montreal riding of Laurier-Sainte-Marie has been named Minister of Canadian Heritage upon Prime Minister Justin Trudeau's cabinet shuffle Wednesday.
One of seven new Liberal MP's named to cabinet, Guilbeault inherits the portfolio from Pablo Rodriguez, a fellow Quebec MP representing the riding of Honoré-Mercier.
Guilbeault is an environmentalist widely known for his opposition to the Trans Mountain pipeline expansion, won his seat after running in his first election, Oct. 21. Following the cabinet swearing-in ceremony he told reporters, "only six months ago, the idea that I would be in politics was just that, an idea," adding he intends to serve as heritage minister, "with the same determination, energy and dedication that I have the environment for the last two decades."
In a statement, Reynolds Mastin, president and CEO of the Canadian Media Producers Association said the organization looks forward to collaborating with Guilbeault to update federal legislation to support a modernized broadcasting and production ecosystem.
Rodriguez, re-elected Oct. 21, was named Trudeau's Quebec lieutenant and will serve as House leader. Mastin thanked Rodriguez for his "important contributions to the screen-based production industry," calling him a "staunch and passionate advocate" who stood up to foreign companies profiting from Canadian creators.
Media issues under the heritage minister have included support for Canada's news and broadcast sector, as well as the development of Canadian entertainment content and the mandate of the CBC.
During the election, the Liberal Party said it would impose a 3% tax on the incomes of digital companies operating in Canada (for companies that make more than $1 billion globally and $40 million in Canada). The purpose of the proposal is, according to Rodriguez, to ensure that "all players, including the web giants," contribute to the creation and promotion of Canadian content. However, if the party were to introduce such legislation, it would require the support of another party due to the Liberals' newfound minority status.