The Grey Cup is looking up
With a higher AMA and reach, how does Canada's big game compare to the Super Bowl?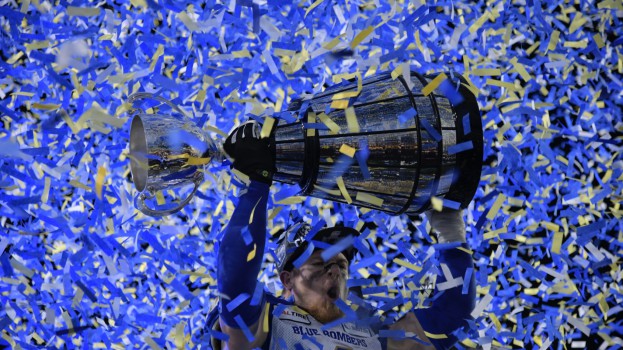 Going into the CFL's 107th Grey Cup, viewers expected the unexpected.
This wasn't your typical final match where the victor was all-but-guaranteed prior to the game (one of the criticisms of this past year's Super Bowl, which continued to bleed viewers, was that it was too boring and predictable). Two league-wide dark horse teams – the Hamilton Tiger-Cats and the (victorious) Winnipeg Blue Bombers – squared off, each vying for their first Grey Cup in 20 and 29 years, respectively.
The result of all that anticipation was a significant lift in AMA from last year.
According to overnight data from Numeris, the match's average audience across TSN and RDS was 3.9 million, with 3.7 million viewers coming from TSN and 252,000 viewers from its French-language counterpart.
This is up 19% from last year, when numbers had dropped nearly 25%.
Throughout the night, nearly nine million unique viewers tuned into the match, meaning the Grey Cup reached nearly one-in-four Canadians (24%). The game achieved a 31% share, meaning nearly one-third of Canadians watching television on Sunday night tuned into the game. Audiences peaked at 4.6 million viewers just as the Blue Bombers were deemed league champions, ending their 29-year drought.
The halftime show (featuring country musician Keith Urban) attracted an average audience of 4.1 million viewers. The halftime show was sponsored by Freedom Mobile. The kickoff show, presented by Sirius XM and featuring Canadian rock band The Beaches, attracted an average of 1.8 million viewers.
Live-streaming audiences also increased by 77%, although Bell Media did not disclose numbers. Social media platforms for TSN saw more than 4.3 million impressions, 2.9 million video views and 224,000 interactions on Instagram and Twitter.
Football has had a difficult time with viewers as of late; the Super Bowl has more consistently trended downward while the Grey Cup has been up-and-down over the years (2018′s AMA, for example, was 10% higher than 2017 and the highest since 2013). And, although the Grey Cup's trajectory has been slightly more positive than that of the Super Bowl, American football culture continues to permeate more than in Canada.
Although the 2019 Super Bowl broadcast audience in the U.S. was the lowest it had been in 10 years, with a reach of 98.2 million, that still meant a reach of 30% of the U.S.'s population – higher than the Grey Cup's 24%. And, despite the lack of enthusiasm around last year's game, AdWeek reports that Fox's ads for next year's Super Bowl have already sold out, making it the fastest market for the event in nine years.
This year's Grey Cup was presented by Shaw. Other sponsors included Nissan, 7-Eleven, LeoVegas and Safeway.
This past CFL season has seen strong viewership; the Western and Eastern finals attracted an average audience of 1.3 million across TSN and RDS, a 29% increase from last year, and a total reach of 5.4 million viewers. The total season reached nearly 16 million Canadians.