NFL action tops Canadian TVs: Numeris
Over the holiday period viewership was down overall but Canadians tuned in for both NHL and NFL action.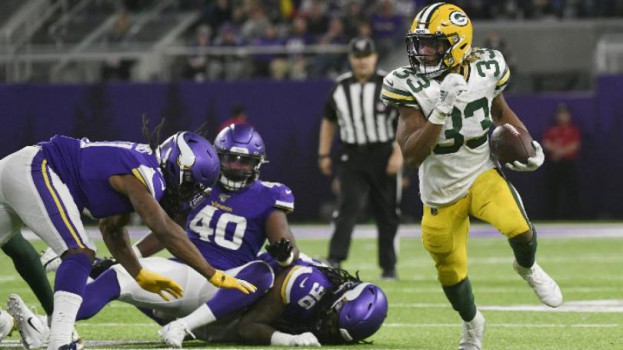 Canadians spent their holiday tuning in, but with most scripted content on a hiatus, NFL and NHL action drew the most viewers across the country for the week ending Dec. 29.
The NFL Early Show pulled in an AMA of 1.19 million, making it the most watched single-night broadcast despite low viewership overall. The weekend edition of CTV News drew slightly less with an AMA of 1.14 million.
Hockey Night In Canada topped the market in Toronto/Hamilton with an AMA of 373,000 while Monday night NFL action drew audiences in Calgary with an AMA of 44,000 and in Edmonton NFL Sunday Prime on TSN averaged 52,000.
Les poule aux oeufs d'or attracted viewers in Quebec with an AMA of 684,000 and the Montreal Canadiens faced the Tampa Bay Lightning near the end of the week, drawing an AMA of 550,000 viewers.
Canada (Anglophone)
1. NFL Early Show on CTV Sunday at 1 p.m.: 1.19 million viewers
2. CTV Evening News Weekend on CTV Saturday at 6 p.m.: 1.14 million viewers
3. NFL Late Show on CTV Sunday at 4:25 p.m.: 906,000 viewers
4. Hockey Night In Canada on CBC Saturday at 7:15 p.m.: 842,000 viewers
5. W5 on CTV Saturday at 7 p.m.: 646,000 viewers
Quebec (Francophone)
1. Les poule aux oeufs d'or on TVA Thursday at 7:30 p.m.: 684,000 viewers
2. Refuge animal on TVA Thursday at 6:59 p.m.: 638,000 viewers
3. L'expérience messmer on TVA Sunday at 7:30 p.m.: 626,000 viewers
4. Vlog on TVA Sunday at 6:30 p.m.: 620,000 viewers
5. Canadiens vs. Lightning on TVA Sports Saturday at 7:01 p.m.: 550,000 viewers
Montreal (Anglophone)
1. CTV Evening News Weekend on CTV Saturday at 6 p.m.: 65,000 viewers
2. Canadiens vs. Jets on TSN Monday at 8 p.m.: 50,000 viewers
3. Hockey Night In Canada on Citytv Saturday at 7:15 p.m.: 48,000 viewers
4. NFL Monday Football on TSN Monday at 8:13 p.m.: 35,000 viewers
5. NFL Sunday Prime on TSN Sunday at 8:20 p.m.: 34,000 viewers
Toronto/Hamilton
1. Hockey Night In Canada on CBC Saturday at 7:15 p.m.: 373,000 viewers
2. Raptors vs. Celtics on TSN Saturday at 7 p.m.: 283,000 viewers
3. The Price is Right At Night on Citytv Monday at 8 p.m.: 208,000 viewers
4. CTV Evening News Weekend on CTV Saturday at 6 p.m.: 198,000 viewers
5. NFL Late Show on CTV Sunday at 4:25 p.m.: 193,000 viewers
Edmonton
1. NFL Sunday Prime on TSN Sunday at 8:20 p.m.: 52,000 viewers
1. Highway Thru Hell on Discovery Monday at 10 p.m.: 52,000 viewers
2. Border Security on Global Sunday at 7 p.m.: 51,000 viewers
2. Border Security on Global Saturday at 7 p.m.: 51,000 viewers
3. NFL Early Show on CTV Sunday at 11 a.m.: 43,000 viewers
Calgary
1. NFL Monday Football on TSN Monday at 8:13 p.m.: 44,000 viewers
2. Global News Morning Show on Global Saturday at 7 a.m.: 34,000 viewers
2. NFL Sunday Prime on TSN Sunday at 8:20 p.m.: 34,000 viewers
3. Monday Night Movie on Global Monday at 9 p.m.: 33,000 viewers
4. Gold Rush on Discovery Tuesday at 9 p.m.: 32,000 viewers
Vancouver/Victoria
1. Global News Hour on Global Wednesday at 5:59 p.m.: 153,000 viewers
2. Hockey Night In Canada on CBC Saturday at 7 p.m.: 151,000 viewers
3. NFL Sunday Prime on CTV Sunday at 5:20 p.m.: 134,000 viewers
4. NFL Sunday Prime on TSN Sunday at 8:20 p.m.: 113,000 viewers
4. Hockey Night In Canada on Sportsnet Saturday at 7 p.m.: 113,000 viewers