CES perspectives: Horizon Media
VP of digital marketing and transformation Pedro Rodriguez says there's still plenty for brands to check out at CES, but it's all about tempering expectations.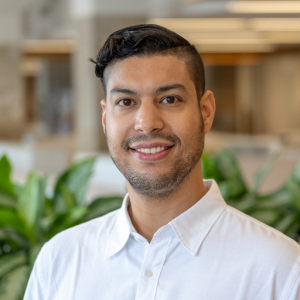 Over the coming days, MiC will be catching up with CES attendees to discuss the impact of what came out of the exhibition this year.
This year's CES prompted a lot of questions – like, "Was that really a toilet roll robot?" (Yes, it was); "Is the world ready for an invisible keyboard?"; "What does plant-based imitation pork have to do with consumer electronics?"; and, of course, "What is the first daughter doing here?" But the annual Consumer Electronics Show in Las Vegas wouldn't serve its purpose if people didn't walk away with questions. Most notably, at MiC, we ask the question: How much of this is relevant to buyers and the brands they're guiding?
Pedro Rodriguez, VP of digital marketing and transformation at Horizon Media, is no stranger to CES. And, he tells MiC, you have to go in with tampered expectations when walking the floor, and expect that there might be some over-promising.
"Last year, everything they were talking about was AI, and especially 5G – 'It's coming, get ready.'" He chuckles. "But now, 5G isn't here."
The 5G mobile network is expected to be a game-changer, with download speeds of up to 20 times higher than the current LTE network, and the marketing and media industries are bracing themselves accordingly. But, according to Kantar, even though Canada's mobile networks are investing tens of billions in the infrastructure to support 5G, implementation could occur as late as 2026.
Rodriguez says the best way to look at the tech demonstrated on the floor is not as a guarantee of the future, but as "an indication of what's possible, probably in the medium-term rate – 24 to 60 months down the road."
"It's not really about spying immediate media opportunities, but media goals."
One particular piece of technology unveiled that Rodriguez wants agencies and brands to zero in on is what's being called the Delta Parallel Reality.
It sounds like the title of a sci-fi show, but the mind-bending technology, soon to begin testing by Delta Air Lines (hence the name) at the Detroit Metropolitan Airport, allows multiple people looking at the same display at the same time to see different, tailored information. In the case of an airport scenario, travellers could look at a digital screen and see only their personalized information, rather than a massive list of all arriving and departing flights.
"It shows the potential to target things not just with different messages, but with different languages, tailored to different data. It already has folks like us thinking about what we can do."
It's not all about the flash and the futurism of projects like the Delta Parallel Reality; Rodriguez says the most relevant developments from a buying perspective come from the devices that fit in one's pocket – or around their wrist. "The dive into digital health this year is really interesting," he says. "Everything is being enabled through your mobile phone now, even standalone products link and collect data through your phone."
One product that's the epitome of this is Savvy Mirror, a D2C product from Electronic Mirror. Rodriguez explains how it works. "These mirrors will keep track of everything from brushing your teeth to skincare, and through that mobile link, it can offer you news, product offers, things to try based off your skin type."
Savvy Mirror got a lot of people talking. However, Rodriguez acknowledges that there may be a disconnect between the tech-savvy crowd on the floor, who mostly come from tech and media industries themselves, and the average consumer who is increasingly concerned about data, privacy and protection.
He says buyers attending CES have to expect a buffer zone before consumer pick-up of devices like smart mirrors go widespread.
"Consumers go through a process of education. When you look at the change from 2018 to the second half of 2019, consumers have demonstrated more knowledge. They know about 5G and what it can enable them to do in terms of gaming and AR. They're making their own decisions as to whether or not it suits them. So, for example, at CES, we're talking about 8K televisions, which have price points in the thousands of dollars. Coming out of here, I don't expect people to just buy a $50,000 television. But this is where the hype happens and people first become aware and then get comfortable."
He points out that, at one point, wearables seemed out of reach, and they are now "super-consumable" and an accepted part of everyday life for many people.
Nevertheless, says Rodriguez, there are some concepts that he thinks might be all smoke and (non-savvy) mirrors. "I love the Smart City concept, but I think the infrastructure required, from both a product and a data perspective… we're talking about a far-distant future, one I might not be be able to see.
"People like to say, 'The industry keeps itself regulated,' but we need actual parameters. There's still a long road to go with legislation and privacy issues."
Next up, Mindshare's Devon MacDonald will share his thoughts.