Spotted! A bus shelter becomes the big top
Whimsical entertainment giant Cirque du Soleil teamed up with Quebecor to permeate all aspects of the Montreal morning commute.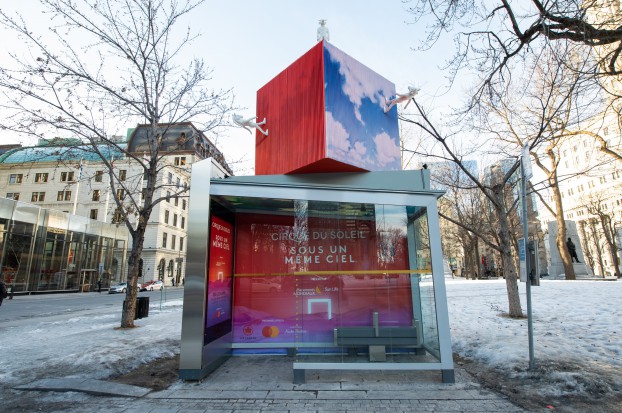 Cirque du Soleil Entertainment Group and Quebecor have collaborated once again to produce an eye-catching campaign for Cirque's April 23 show in Montreal, Under the Same Sky.
And, to capture the spirit of the show, the multiplatform campaign has centered around an innovative transit shelter activation.
The shelter features a giant cube atop the roof, with visuals that evoke the creative landscape of the new show. The giant cube has distinctive images on each side to give passersby a different view from every angle. Inside the transit shelter, the illuminated ceiling features a cloud-filled sky of constantly changing colours. Outside, the show is promoted with side and back posters. The execution also included 3D renditions of three of the show's characters, who appeared to be defying gravity and walking on the cube.
The transit shelter was used as the launching ground to reveal the title of the new show, with a weather reporter from Quebecor morning show Salut, bonjour on site to make the announcement, which was also broadcast online and on social media.
Additionally, the brand reached subway commuters through a special front-page takeover of the free daily newspaper 24h (which is circulated at Montreal subway stations). The paper's distribution team wore special jerseys with the show's branding.
The campaign runs through May and is being handled by Quebecor's internal agency, Collab Studio Collaborative Marketing.