Where circulation is down for OOH, and where it's flat or rising
While a highway billboard might not get the same traffic as before, there's good news for those targeting residential and elevator networks.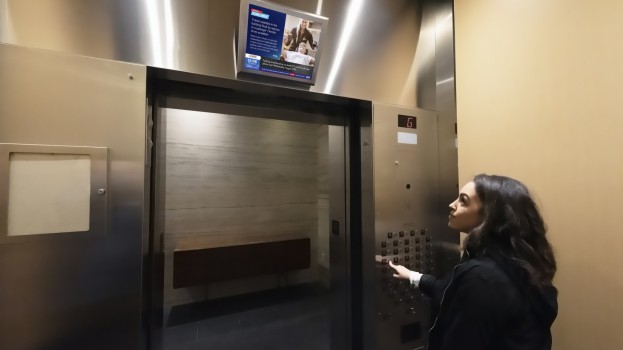 Highways, malls, airports and transit hubs across Canada have seen traffic reduced from 65% to 95% –  that's not good news for OOH advertisers.
But new research from Novus Media also highlights areas where OOH viewership has increased.
Debbie Drutz, president of Novus Canada, says the reason the agency commissioned the geo-mobile study was to get ahead of the conversation with clients and provide them some actionable information on their investments. The findings are also helpful when making decisions around compensation values for those advertisers that stayed in the OOH marketplace throughout April, May and perhaps into June.
She says, "It's so important to get this near real-time data and you can look at a 30-day history.  That's where we can really be strategic and customized based on certain neighbourhoods and areas and products for those advertisers who want to be in market today with relevant messaging."
Novus commissioned Chameleon Digital Media and UberMedia to conduct a study of daily traffic on a set of public spaces from February 01, 2020 to March 31, 2020 compared to a baseline.
The study looked at high traffic areas in Toronto, Montreal, Calgary and Vancouver, which all showed significant declines in key areas. For example, traffic at Toronto's Union Station was down 94% and at Yonge and Dundas Square the decline was 88%.
The report also showed the top home origin FSAs in those cities. Those are the areas that will currently provide the most opportunities for views for advertisers. They include residential areas, residential buildings, gas stations and healthcare facilities with place-based and OOH opportunities, where traffic has stayed steady or even increased.
Anton Vassiliev, managing director of strategy and investments for Novus, says, "There's no surprise that… the consumers are not spending as much time in public areas. What we wanted to see, because the majority of our business is between home and office, is how severe or how significant things have changed."
However, he says, there are a number of things advertisers can do to maintain brand presence during this difficult time and that vendors or agencies have ways to improve value on buys in areas where circulations are down. He also encourages advertisers to examine advertising in residential towers, elevator networks, gas station networks and other areas where traffic is still reliable.
Drutz says this situation is a short-term one.  "OOH was the second-fastest growing medium next to digital. It's vibrant. It's dynamic. It's changing so quickly and with our digital capability, with our technology capabilities, especially in the automation front, we know OOH is coming back."