Stronger Together is indeed the strongest: Numeris
The concert special broke records for non-sports programming in Canada.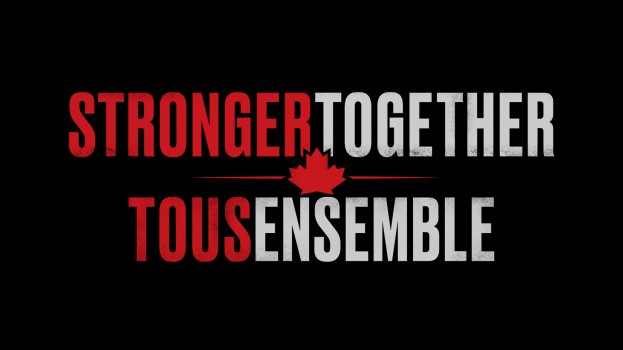 It was a record-breaking broadcast and the result of a joint effort by numerous Canadian networks – now, the proof is in the numbers. Stronger Together, Tous Ensemble took the top spot as the single-night program with the highest average-minute audience for the week ended April 20.
The uplifting, remote-produced concert special was the most-watched non-sports broadcast in Canada in the last year, with 3.23 million average viewers. This is the second week in a row a special concert has been the most-viewed program in Canada and broken the three million viewer mark.
Also bringing in the views for CTV was The Rookie, which has risen in the ranks throughout the weeks to become one of the most consistently viewed programs in Canada. Coming in just behind the procedural drama was the finale of The Masked Singer, and rounding out the top five were 9-1-1 and Survivor.
The concert special topped most Anglophone markets, with the exception of the Alberta markets where high-octane procedural dramas ruled the roost.
In Quebec, Tout le monde en parle once again held the top spot with more than one million views.
Canada (Anglophone)
1. Stronger Together, Tous Ensemble on CTV Sunday at 6:29 p.m.: 3.23 million viewers
2. The Rookie on CTV Sunday at 10 p.m.: 2.25 million viewers
3. The Masked Singer on CTV Wednesday at 8 p.m.: 2.17 million viewers
4. 9-1-1 on Global Monday at 8 p.m.: 2.16 million viewers
5. Survivor on Global Wednesday at 8 p.m.: 2.13 million viewers
Quebec (Francophone) 
1. Tout le monde en parle on SRC Sunday at 8 p.m.: 1.35 million viewers
2. Infoman on SRC Thursday at 7:30 p.m.: 1.01 million viewers
3. La vraie nature on TVA Sunday at 9:20 p.m.: 965,000 viewers
4. Cinémax on TVA Saturday at 8:53 p.m.: 9:36,000 viewers
5. La recrue on TVA Wednesday at 8 p.m.: 843,000 viewers
Montreal (Anglophone)
1. Stronger Together, Tous Ensemble on CTV Sunday at 6:29 p.m.: 134,000 viewers
2. Law & Order: SVU on CTV Thursday at 10 p.m.: 74,000 viewers
3. The Rookie on CTV Sunday at 10 p.m.: 68,000 viewers
4. The Masked Singer on CTV Wednesday at 8 p.m.: 65,000 viewers
5. 9-1-1 on Global Monday at 8 p.m.: 62,000 viewers
Toronto/Hamilton
1. Stronger Together, Tous Ensemble on CTV Sunday at 6:29 p.m.: 707,000 viewers
2. The Masked Singer on CTV Wednesday at 8 p.m.: 510,000 viewers
3. Survivor on Global Wednesday at 8 p.m.: 507,000 viewers
4. The Rookie on CTV Sunday at 10 p.m.: 401,000 viewers
5. 9-1-1 on Global Monday at 8 p.m.: 390,000 viewers
Edmonton
1. The Rookie on CTV Sunday at 8:04 p.m.: 108,000 viewers
2. 9-1-1 on Global Monday at 9 p.m.: 100,000 viewers
3. Survivor on Global Wednesday at 9 p.m.: 93,000 viewers
4. The Masked Singer on CTV Wednesday at 9 p.m.: 84,000 viewers
5. Stronger Together, Tous Ensemble on CTV Sunday at 6:29 p.m.: 73,000 viewers
Calgary
1. 9-1-1 on Global Monday at 9 p.m.: 142,000 viewers
2. The Rookie on CTV Sunday at 8:04 p.m.: 91,000 viewers
3. The Masked Singer on CTV Wednesday at 9 p.m.: 90,000 viewers
4. MacGyver on Global Friday at 9 p.m.: 86,000 viewers
5. Stronger Together, Tous Ensemble on Global Sunday at 6:30 p.m.: 81,000 viewers
Vancouver/Victoria
1. Stronger Together, Tous Ensemble on Global Sunday at 6:30 p.m.: 265,000 viewers
2. The Masked Singer on CTV Wednesday at 8 p.m.: 247,000 viewers
3. Survivor on Global Wednesday at 8 p.m.: 191,000 viewers
4. 9-1-1 on Global Monday at 8 p.m.: 186,000 viewers
5. The Rookie on CTV Sunday at 10 p.m.: 167,000 viewers