Hardware stores, insurance providers surging on Toronto radio
Meanwhile, Montreal's rebound has been meandering.
The Government of Ontario once again ramped up its buying in the Toronto radio market, securing 1,823 ad spots and topping the market for ad buying, as it has almost continuously since April. According to the Media Monitors report for the week ending June 7, that's a lift of nearly 600 from the previous week.
Coming in second was Rona, which did not advertise the week previous, but then took out a massive buy of more than 1,400 ads.
In third place was Allstate with 920 ads, followed by the Honda Dealer Association and Hydro One, both at just under 800. The top-five buyers in Toronto could be a sign that more brands are starting to spend more on radio; Hydro One increased its buy slightly from last week (787, up form 766), but last week it was the second-biggest buyer in the city. This week, with even more ads, it had four advertisers ahead of it.
For categories, government and unions remained on top and had a much bigger buy at 1,849 (with all but 26 ads coming from the provincial government). Home centres and hardware stores made a massive increase to 1,652 total ads, up from 146. Public service spent slightly less, at a total of 1,524. Insurance providers, meanwhile, doubled to 1,444 total ads. Other big increases came from car and truck dealer associations and diagnostic and medical services, while the financial category dropped its collective buy by nearly half.
While the top-five buying categories are increasing their overall volume slightly, it's worth noting that when government advertising is not taken into account, the top-five buying categories are still not back to pre-pandemic levels.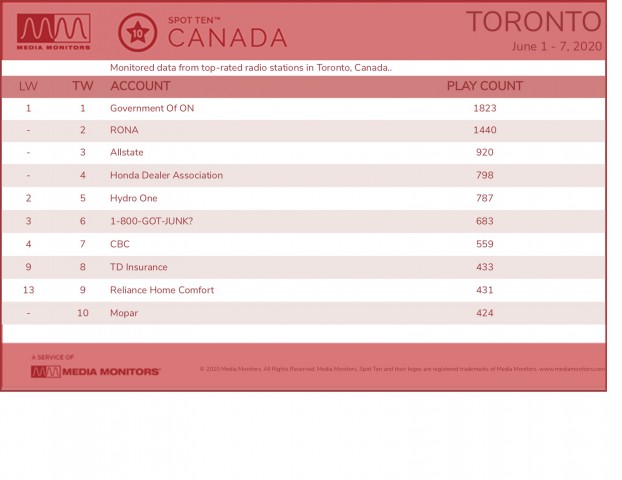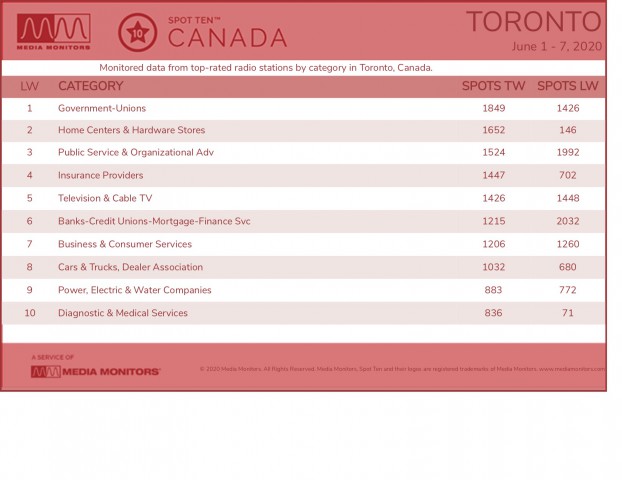 In Montreal, there was a little less variance. The provincial government there purchased 830 ads, maintaining a very steady buy as it has for the last several months. Second-place advertiser CTV lifted its buy ever-so-slightly to 328, while Bell Internet and TV made a bigger leap to third place with 316 ads. Rounding out the top-five were Consolidated Credit with 242 ads, and Shopico with 235.
Montreal's radio buying, when examined from a category level, shows a slightly less drastic rebound than Toronto's radio buying. Some categories are still showing bit drops from week-to-week. Besides government and unions, which was down some 200 spots to 830, there were moderate drops from public service, business and consumer goods and wireless and internet services.
However, there's a small number of categories on the rise in Montreal as well; television and cable TV has continued to grow slightly, while the financial category made a small jump as well. Telcom bundled services and wireless providers had more significant lifts, while the hardware retail category made a comeback with 259 fresh buys.