New DOOH network touches down in three markets
The new network was born out of the development team behind the former Dynamic Outdoor.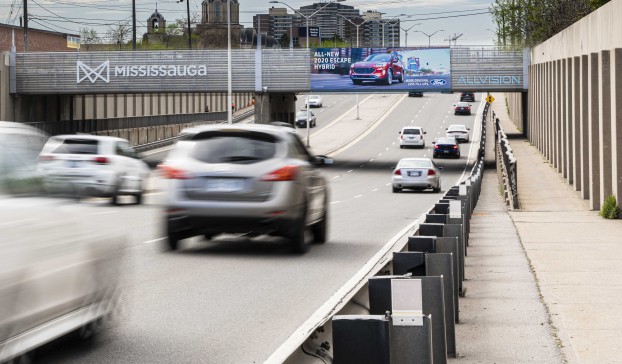 Allvision has launched a brand new, pureplay digital, large-format OOH network on major streets and highways in Toronto, Montreal and Vancouver.
In Toronto, Allvision currently has 28 faces live and by end of September will have a total of 36 large-format digital billboards. The boards are located along GTA series of highways in addition to bridge overpasses via a North America-wide joint venture with CP Rail. There are 16 large-format, high resolution boards up on overpasses right now with a total of 20 to be up by the beginning of July. Allvision estimates that the network will deliver close to 22,500,000 daily impressions.
Brandon Newman, former chief commercial officer at Outfront Media and president of Dynamic Outdoor, is now Allvision's president of media. Christopher Bentler continues as president of development.
Newman says, "We have come to market with an industry leading programmatic-first stack which no longer is bound to the traditional loop. We do not have a loop. We are still able to execute all buy types including guaranteed location with Cadence logic by audience determination and general impressions, and we are able to transact through traditional direct deals with paper contracts, PMPs and programmatically. It's a massive leap forward in our ability to truly transact and execute in a programmatic fashion."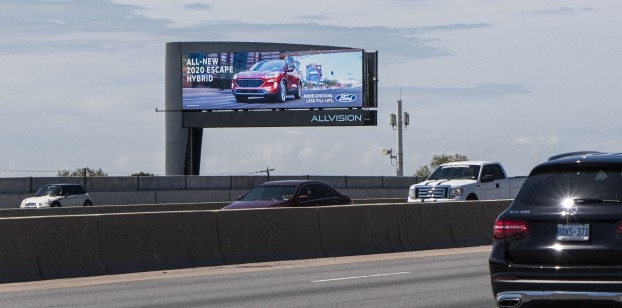 Because there is no loop display format, instead the tech goes through a process of what Newman describes as a 'what do I do next' question/command, and continually goes through that process an infinite amount of times without the concept of a loop mechanism. Allvision has partnered with Hivestack to provide the logic to select what ad or what campaign plays where, when and how – in real time.
Allvision accepts all programmatic purchases through the Hivestack DSP and will be adding additional DSP partners in the coming weeks.
Allvision had initially been operating as a development company on behalf of many OOH suppliers in Canada for about the last 15 years. It has developed a large portion of the large format digital billboards in Canada. In 2014, it started Dynamic Outdoor which was the sales arm to Allvision. Dynamic was ultimately sold to Outfront Media, but Allvision maintained the right to continue to develop.