ICYMI: Roger Petersen out at BT, UM helps BIPOC-owned businesses
Plus, Stingray brings iconic concerts – including Woodstock – to people's living rooms.
Breakfast Television changes its talent lineup again
Only two years after assuming hosting duties at Breakfast Television, Roger Petersen announced via social media that he is no longer co-host of the Citytv morning program. Petersen joined the team in 2018 following the ousting of longtime host Kevin Frankish. A spokesperson for Rogers Sports & Media tells MiC there are no immediate plans to replace Petersen, citing the strength of Breakfast Television's current on-air team of Dina Pugliese, Devo Brown, Frank Ferragine, Stephanie Henry, Melanie Ng, Tammie Sutherland and Nicole Servinis. While Rogers Sports & Media did not outline any rationale for Petersen's departure, it stated, "We are always striving to best serve our audiences and deliver a great morning experience to Breakfast Television viewers.  We thank Roger for his dedication and significant contribution to BT and CityNews and wish him continued success."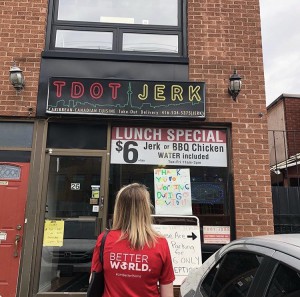 UM takes Global Impact Day online
For the third year in a row, Mediabrands agency UM closed its offices and gave employees the day to volunteer their time and resources to philanthropic efforts. The difference is that this year, physical offices were already "closed" and the Global Impact Day was held virtually. But employees still helped to make a difference online. UM Canada extended its media skillsets with small businesses run by BIPOC, creating and distributing playbooks and consultation materials for free. Shelley Smit, president of UM Canada, explained in a statement: "It goes without saying that small businesses have been hit hard this year, but if you're Black, Indigenous or a person of colour, we recognize that there could be the added challenge of being under-funded and under-represented as a small business owner." The offering also included pro-bono research and insights to help fuel marketing and media plans by these businesses.
Stingray to put out iconic virtual concerts
Quello Concerts, Stingray's streaming service for full-length concerts and music documentaries, will roll out a three-week online "music festival" beginning July 29. During those weeks, the service will broadcast encore performances from some of the most well-known bands of the past and present, from Queen and Pink Floyd to Ellie Goulding and Sam Smith. The event will also feature Janis Joplin's iconic Woodstock performance in celebration of its fiftieth anniversary.