Agents of SHIELD is on top, but no programs crack one million: Numeris
Meanwhile, in Toronto, the return of Formula One brought some viewers, but other markets gravitated toward reruns or unscripted shows.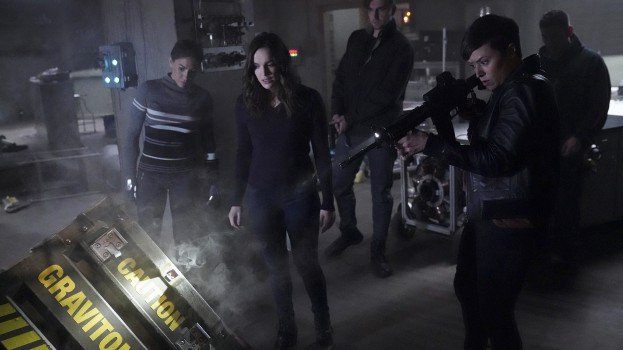 Two big unscripted shows – America's Got Talent and World of Dance – took the week ending July 12 off. That resulted in a different show taking the top spot, Marvel's Agents of SHIELD on CTV. With an AMA of 912,000, it was the most-watched single-night program of the week and did show notable improvement over its performance in previous weeks. Nevertheless, not a single show in the top-five cracked an average of one million viewers per minute, with three shows pulling in under 700,000 viewers – a new low for the top-five.
Regional markets were inconsistent in terms of what shows they gravitated toward. Montreal preferred reruns and scripted shows like Law & Order and Blindspot, Toronto opted for old-school game shows like Family Feud and Press Your Luck (along with the return of Formula One) and Edmonton opted for unscripted programs like Border Security, Alaskan Bush People and Deadliest Catch.
Canada (Anglophone)
1. Marvel's Agents of SHIELD on CTV Wednesday at 10 p.m.: 912,000 viewers
2. Blue Bloods on CTV Friday at 10:01 p.m.: 714,000 viewers
3. The Titan Games on Global Monday at 8 p.m.: 694,000 viewers
4. Tough as Nails on Global Wednesday at 8 p.m.: 680,000 viewers
5. Good Witch on W Sunday at 9 p.m.: 650,000 viewers
Quebec (Francophone) 
1. Un zoo pas comme les autres on TVA Monday at 7 p.m.: 598,000 viewers
2. Les gags on TVA Sunday at 6:30 p.m.: 592,000 viewers
3. Ninja warrior: Le parcours ultimate on TVA Tuesday at 7 p.m.: 527,000 viewers
4. Vlog on TVA Sunday at 7 p.m.: 514,000 viewers
5. Chicago Fire: Caserne 51 on TVA Monday at 8 p.m.: 512,000 viewers
Montreal (Anglophone)
1. Law & Order: SVU on CTV Thursday at 10 p.m.: 42,000 viewers
2. Blindspot on CTV Thursday at 9 p.m.: 38,000 viewers
3. Match Game on CTV Sunday at 10 p.m.: 36,000 viewers
4. Press Your Luck on Citytv Sunday at 9 p.m.: 33,000 viewers
5. Celebrity Family Feud on Citytv Sunday at 8 p.m.: 31,000 viewers
Toronto/Hamilton
1. Celebrity Family Feud on Citytv Sunday at 8 p.m.: 206,000 viewers
2. The Titan Games on Global Monday at 8 p.m.: 201,000 viewers
3. Formula One on TSN Sunday at 8:55 a.m.: 187,000 viewers
4. Press Your Luck on Citytv Sunday at 9 p.m.: 175,000 viewers
5. Marvel's Agents of SHIELD on CTV Wednesday at 10 p.m.: 163,000 viewers
Edmonton
1. Border Security on Global Sunday at 7 p.m.: 60,000 viewers
2. The Titan Games on Global Monday at 9 p.m.: 59,000 viewers
3. Alaskan Bush People on Discovery Monday at 9 p.m.: 55,000 viewers
4. Deadliest Catch on Discovery Tuesday at 10 p.m.: 50,000 viewers
5. Global News Morning on Saturday at 7 a.m.: 50,000 viewers
Calgary
1. Alone on History Thursday at 10 p.m.: 44,000 viewers
2T. Border Security on Global Saturday at 7 p.m.: 42,000 viewers
2T. Marvel's Agents of SHIELD on CTV Wednesday at 8 p.m.: 42,000 viewers
4. NCIS on Global Tuesday at 9 p.m.: 39,000 viewers
5. Match Game on CTV Sunday at 7 p.m.: 38,000 viewers
Vancouver/Victoria
1. Border Security on Global Saturday at 7 p.m.: 102,000 viewers
2. The Titan Games on Global Monday at 8 p.m.: 95,000 viewers
3. Good Witch on W Sunday at 9 p.m.: 92,000 viewers
4. Tough as Nails on Global Wednesday at 8 p.m.: 91,000 viewers
5. CTV Sunday Movie on CTV Sunday at 7 p.m.: 90,000 viewers