How Clorox used influencers to combat misinformation
The brand paired with "DIY Mommy" Christina Dennis to show how bleach can be used safely to create DIY disinfectant.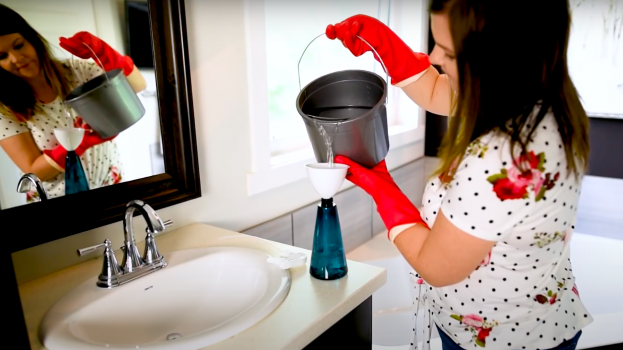 In the early days of the COVID-19 pandemic, consumers were awash with fear, confusion and a few misconceptions. As new information became available, some panicked and became more susceptible to misinformation – such as what products people should and shouldn't use to keep themselves (and their homes) safe.
That, combined with the springtime panic buying that left many household products hard to find, led Clorox to embark a new mission.
"We knew that there was a lot of misinformation on the internet when COVID hit," says Laura Peden, digital marketing manager for home care products at Clorox. "With Clorox being an established brand, we wanted to make sure people knew how to safely use disinfecting products, like bleach. We knew that it became very difficult to find disinfecting wipes and sprays, so we wanted to make sure that there were alternatives to those products, using bleach as a base and doing it safely."
Enter Corus, which was on its own mission.
Corus' social and digital content agency, So.da, had noticed increased traction for its "with me" videos, where influencers invite people to "clean with me," "organize with me" or otherwise follow along with home tasks, says head of So.da and SVP of marketing Dervla Kelly.
Kelly says So.da approached Clorox to work on a program that tapped into the "with me" genre of videos – which Kelly says has gone through the roof since the start of the pandemic – and which would support search statistics on things like homemade bleach wipes.
"We approached this from a data-led approach, as opposed to a creative-led approach," Kelly tells MiC. "Understanding what's trending and what's performing is the key to strong performance as well as spending efficiently – because you can pay for reach, but you can't pay for engagement. Engagement is what drives the algorithm and also what drives conversion."
Aimée Legault, senior manager of integrated marketing, says So.da created an integrated social campaign around Kin influencer Christina Dennis, better known as DIY Mommy, with Clorox's bleach as the hero product. The social campaign was focused around a longer-form YouTube video that invited Dennis' fans to clean with her and offered a guide on how to create safe homemade disinfectant products.
There was also some shorter-form content created, with an additional focus on Pinterest. "With Pinterest, we took the insight that what people see there, they do," says Legault. Paid media boosted all of the content on its respective platforms.
Legault noted that it was a quick brief from pitch to execution; it all happened in one month, and the campaign launched at the end of June, concluding at the end of July. The team also worked closely with Clorox's AOR, OMD.
Peden adds that there was also a broader media campaign promoting Clorox's full product line, but this execution was something that the brand tuned into "once we had a better understanding of what was going on in the in-store environment."
Typically, she says, campaigns to combat misinformation might warrant a mass approach, like TV and radio. But, she says, So.da's social insights inspired a new strategy. "Not only does [Dennis] have a perfect fit with the DIY component, because consumers are used to seeing it from her, but she's someone who had the right tone and approach. People sometimes have a lot of fears and worries about bleach, but we knew that if this information came from an influencer, they would understand that it is safe to work with when you do it properly. People trust influencers."
The main goals of the campaign were retention and watch time – Legault says Corus observed "years" of watch time, with a retention rate that is an average of 40% higher than Dennis's other content. The average video view is more than five minutes, which Legault and Peden both described as "crazy." Driving to Clorox's COVID-19 resource site was also a goal for the brand, which Peden says has so far been achieved.