Pinterest rolls out new quiz unit, with IKEA Canada first to try it out
With more homebodies looking for at-home creativity and a broader drive toward ecommerce, the quiz is giving Pinners a new way to curate their boards.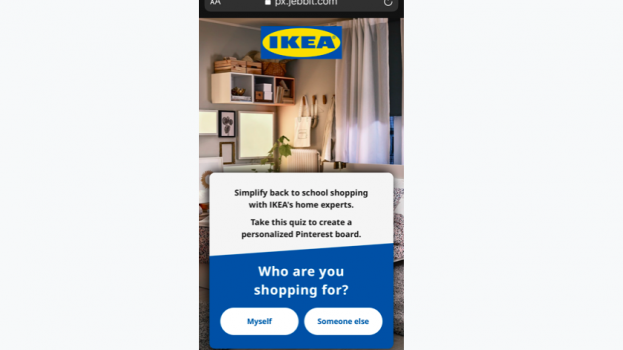 Pinterest has unveiled a new ad unit that puts an interactive spin on the "rabbit hole" nature of Pinning and exploring one's home feed. The new Pin to Board Quiz unit can be embedded within a feed or a pin board, and helps users assemble a customized Pinterest Board based on their answers.
The first brand to try it out is IKEA Canada.
The quiz is aimed at taking some of the pressure out of back-to-school prep for postsecondary students. The five questions revolve around where the student will be living (dorm, off-campus or with parents), what their priorities are and what their personal aesthetic is like. After, the shoppers receive a personalized board of inspiring content. Besides furniture picks, the boards will include tips on topics like surviving in small spaces, studying hard and sleeping well.
Pinterest says there has been a 116% increase in Pinterest searches for "dorm room inspiration" topics from June to August of this year, and an 82% increase in "homeschool room ideas" from July to August. According to the company's internal stats, during a regular week, 89% of weekly Pinners use Pinterest for inspiration in their path to purchase.
The coronavirus pandemic boosted user growth for the company as more people were working, shopping, and cooking at home. As of this month, San Francisco-headquartered Pinterest has over 400 million monthly active users – a 39% increase over the same time last year.
And Pinterest is one of the only media companies whose ad revenue has reflected that lift in traffic.
According to Standard Media Index, Pinterest, while not a top-10 media owner in Canada, saw revenues in the country lift by 102% year-over-year in June. The only other major media owner in Canada that made significant gains this summer was Amazon. With a rise in ecommerce and an appetite to get creative in the home, the media analytics firm says it's no surprise that it's one of the biggest beneficiaries of COVID-19-driven habit changes.
And, while interest in the platform has sprung up, SMI CEO James Fennessy expects that prices on the platform might rise slightly, but it's doubtful that they'll go into "premium" territory anytime soon because of its low base-cost and high amount of inventory.
As for IKEA, it's also in the midst of two major media buys to promote its annual catalogue, including a digital, social and broadcast integration with CTV's The Marilyn Denis Show. While that integration also includes a Pinterest component, this focus on student spaces is part of a different effort.
IKEA works with Carat Canada on its media buying efforts.
With files from Bree Rody