TVA sets its fall schedule
A number of new and returning series are in the can and ready to go, including unscripted, variety and drama.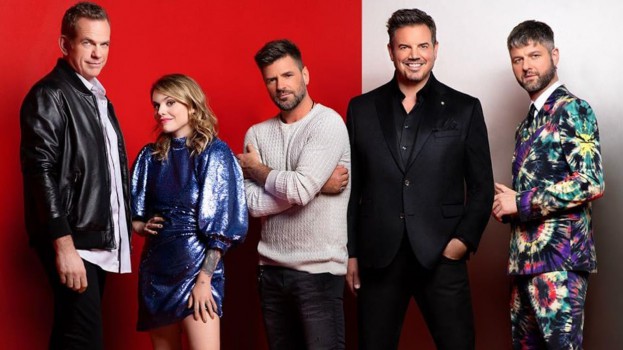 While much of the TV industry has been mired in uncertainty thanks to production shutdowns, TVA has officially finalized its fall slate, confirming that 11 new shows will come this fall.
In total, TVA will roll out 34 original productions this fall.
Sunday nights will still be home to singing competition La voix (pictured), with host Charles Lafortune and coaches Marc Dupré, Coeur de Pirate, Garou and Pierre Lapointe all returning.
On Oct. 25, following the conclusion of La voix, Lafortune and Dupré will both get a chance to headline different shows. At 8 p.m., Lafortune will host Bijoux de famille, a comedy series that profiles different Quebec families in a comedy club atmosphere. After, Dupré hosts En studio, an unscripted series that gives non-professionals a chance to record a song as a gift to someone special in their life.
Also in the unscripted realm, Patrick Huard's new talk-show format La tour will air Monday to Thursday at 7:30 p.m., and À tour de rôles, which sees Marie-Eve Janvier profiling and interviewing some of Quebec's most beloved actors, will air Mondays at 9 p.m. New series Première ligne focuses on the real lives of first responders and dispatchers and will air Mondays at 7 p.m.
For scripted series, L'Échappée returns to its Monday spots at 8 p.m. New series Mon fils will also air Monday nights. The series, starring Antoine L'Écuyer and Élise Guilbault, dives into the difficult and troubling world of mental illness. On Tuesdays at 8 p.m., the French adaptation of The Good Doctor, Le bon docteur, will air for a third season. That's followed at 9 p.m by new serial crime drama La faille.
Wednesdays at 8 p.m., hit suspense series La recrue returns for a second season. That's followed by more lighthearted fare at 9 p.m.: Pier-Luc Funk, Sophie Cadieux, Marie-Ève Morency star in Rue King, a Sherbrooke-set sitcom that will largely feature improvised comedy. Finally, Fridays at 9 p.m., a French-language version of 9-1-1 will air.
Other returning series include game shows Le tricheur (weeknights at 6:30 p.m.) and La poule aux oefs d'or (Thursdays at 7 p.m.), behind-the-scenes show La voix extra (Wednesdays at 7 p.m.), evening talk show Ça finit bien la semaine (Fridays at 7 p.m.), Saturday morning variety show Bien (Saturdays at 10 a.m.) and internet culture series Vlog (Sundays at 6:30 p.m.). Additionally, this season of docuseries Refuge animal (Mondays at 7 p.m.) will focus on the effects of COVID-19 on animal shelters.
The official fall season kicks off Monday, Sept. 7 at 8 p.m. with the traditional fall season special of La rentrée TVA.
Midseason will see returning series such as Star académie and Caméra café, new comedy series Sans rancune and new animal rescue series Sauvetage animal.
TVA says viewership for the 18 to 34-year-old crowd rose by 3% year-over-year this past winter, although it still aims to be a content destination for all age demographics.