Shiseido builds a beauty box on Pinterest
As the brand looks to increase its ecommerce sales, it's seeking skincare-savvy social users.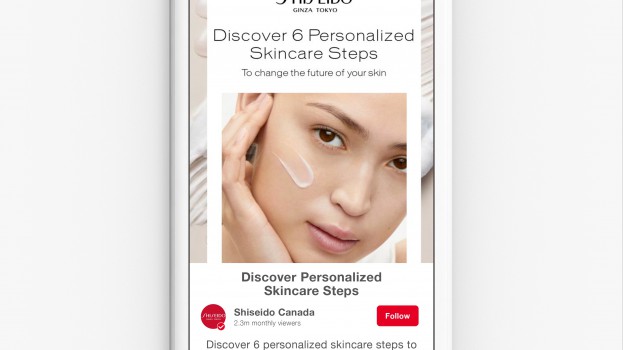 Shiseido Canada has launched a campaign on Pinterest featuring a new tool the social platform is calling the Beauty Box Builder. According to Pinterest, the Builder is the first of its kind in Canada.
Paid ads on Pinterest drive Pinners to a quiz that helps them discover the best products for their skin type based on their needs and priorities.
After completing the quiz, Pinners receive a customized, shoppable Pinterest board highlighting the recommended Shiseido products and six skincare steps for a healthy  regime. The Shiseido Beauty Box Builder will be live until Nov. 15.
It's a similar execution to the quiz solution tested out by IKEA Canada in the summer. While the furniture retailer was the first Canadian brand to test out the unit, this is the first time it's permeated the beauty category. And stats show that Pinterest is a good fit for the campaign. Skincare is the fastest growing category within beauty on Pinterest – up 28% year over year.
More than two million monthly Pinners are looking for skincare ideas. They're searching for inspiration around routines (up 30%) and skincare products (up 40%), using terms such as "skincare", "beauty hacks" and "glow up" on the platform. The platform is also increasing as a destination for male users, including in categories like fashion and skincare.
Pinterest's own data also shows that users are 64% more likely than non-users to have purchased skincare products in the last month and beauty Pinners spend five times longer viewing the search results on Pinterest than other platforms.
For Shiseido's part, the Japanese-headquartered brand has been growing increasingly in Canada. While Canadian president Louanne McGrory has said it hasn't had the same big marketing budget as its competitors in the luxury space to spend on glossy print ads and has instead opted for more experiential and social activations, it's paid off so far. In 2019, Shiseido Group ranked at number four in terms of top luxury brands for Canadian market share, up from eighth place five years before. Skincare, in particular, is outpacing makeup for growth.
The direct deal with Pinterest fits with Shiseido's goal to increase its ecommerce penetration in Canada. Last year, the figure sat at 14%. This year, it's aiming for 26% penetration through its own and third-party channels.