Snapchat makes a bang with Sounds
The platform is following in the footsteps of Instagram and TikTok with an official music library to enhance content.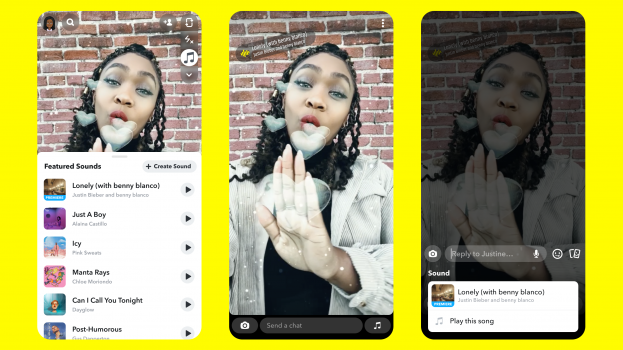 Snapchat has snapped back at the likes of Instagram and TikTok, giving its users a feature they've been enjoying on its competitor platforms for some time now: the ability to add music to their posts.
Snapchat Sounds will enable users to select from a broad library of songs. The launch of the new feature got a boost from Canadian superstar Justin Bieber, who used the feature to showcase an exclusive preview of his new song, "Lonely."
Other Canadian artists available through the new feature include Alanis Morisette, Rush, Alessia Cara and others – and, of course, global artists will be available as well.
Sounds will apply both to Snapchat's one-to-one Snaps and its one-to-many Story posts. Matt McGowan, country manager for Canada at Snap, tells MiC it's another way Snapchat is trying to give its creators more tools and personalization.
The platform introduced a musical Lens in 2016. While the addition of Sounds has no direct tie-in for brands at the time, with the option available to add to public Stories, brands that create content on Snapchat can also take advantage of the tool.
Instagram first introduced a music option last year, but it was its 2020 expansion into all markets (including Canada) that precluded its launch of Reels, a video creation tool similar to TikTok.
While McGowan did not reveal the exact size of the library, he says the catalogue – which is the same across all markets – is refreshed often, and includes multi-year agreements from publishers and labels including Warner Music Group, Merlin (which includes their independent label members), NMPA, Universal Music Publishing Group, Warner Chappell Music, Kobalt and BMG Music Publishing.
Snapchat's current reach in Canada is more than nine million. By its own estimates, it reaches more than 80% of Canadians age 13 to 24, and 60% of 13 to 34-year-olds.