The Distillery District gets an ad partner in Eat It Up Media
The historic district's ad units will include banners, murals, projections and experiential.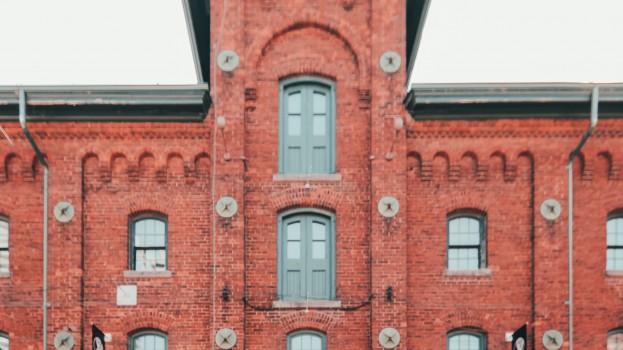 Eat It Up Media (EIUM) of Montreal has been hired to rep advertising for the OOH and activation spaces for Toronto's historic Distillery District.
The arts, culture and entertainment district is currently home to five murals, seven hanging banners, four projection walls, six activation spaces and four pop-up shops. In normal (non-COVID) circumstances, the Distillery District sees estimated foot traffic of 300,000 over an average four-week period.
Rob Deckelbaum, EIUM co-founder, says the company isn't planning on installing any more ad spaces to avoid compromising the heritage qualities of the Distillery District beyond what it's already added. Previously there was only one mural offering but with this new partnership, EIUM has created the additional opportunities including four more murals, the four projection walls and pop-up containers.
"We see the Distillery District as one of the premium outdoor locations in Canada, making it an incredible anchor for our overall offering," says Deckelbaum. "Considering we are in the OOH space and have an experiential marketing division, the Distillery District offers us a canvas to do both traditional and out-of-the box-initiatives, creating 360-degree experiences for our clients."
He says the agency has been working hard over the past six months to expand its advertising opportunities – it also recently expanded into place-based sales through a partnership with healthcare network IDS Canada – and expects to make even more large announcements in the coming weeks.