Inside Indigo's COVID Christmas media strategy
With a smaller marketing budget, the retailer brings media in-house and shifts to digital to try to manage in-store crowds.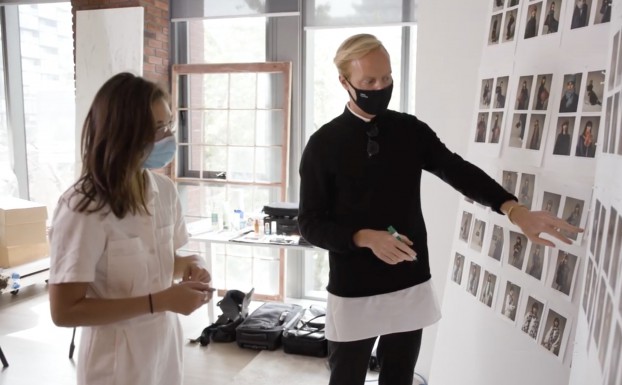 Indigo is using its media strategy to both offset COVID-19′s impact on sales earlier in the year and help spread out the holiday shopping crowds that typically jam its stores in December.
The book and gift retailer, like many Canadian businesses, took a sales hit earlier in the year thanks to pandemic lockdowns and the public's shifting wariness of busy indoor spaces. According to the company, book sales have bounced back a bit as Canadians stay indoors and look for entertainment. But uncertain of whether there would be a second wave of COVID-19 infections and how severe it would be, the brand built its holiday media strategy to address both budgetary limitations and safety precautions.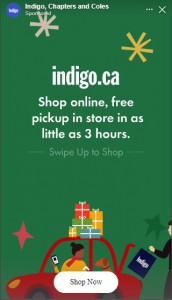 Media buying was moved in-house as a cost-cutting measure, at least initially. Alison Lawler-Dean, Indigo's VP of marketing, tells MiC there have been other benefits from looking inward. "We are seeing strong results with internal marketing, digital and creative teams working so closely together," she says. "We will bring in an [outside] strategic media agency partner next year but [will] likely retain much of the digital in-house."
Leaner budgets also meant a shift in channel focus and messaging. "We do not have TV this season but will consider it in future again for the right moment," Lawler-Dean says. This holiday season, digital video spots are appearing in YouTube's True View and Bumper slots, supported by an array of digital display, SEM and a renewed push into radio.
"I would say overall this season, with leaner budgets, we were slightly more direct response-focused over brand [building]," Lawler-Dean says. Those direct-response efforts were shaped by a media plan divided into three phases, each trying to capture a different shopper. To catch early birds, Indigo went out with "Why shop early?" messaging. For the first part of the primary season, it went more tactical to show Indigo as a one-stop shop for gifts. The final phase will focus on last-minute gifting.
That phased approach also helps address the retailer's desire to avoid massive crowds at its stores. The three phases (that began back in October) are meant to encourage a longer shopping window, hopefully thinning out the crowds. For example, while Black Friday usually saw huge lineups that were then echoed in the week before Dec. 25, Indigo wanted to make sure shoppers knew its Black Friday prices would go into effect before Black Friday. Its "Holiday Your Way" campaign also makes sure consumers know about online shopping options, offering another way to keep in-store numbers manageable.
The icing on the cake? The digital-first strategy has helped bring new consumers to the brand. While she won't share sales numbers or shopper metrics, Lawler-Dean says she's seeing younger shoppers coming to the retailer.
"People seem to be reading more than ever and our overall product assortment is really resonating," she says.
With files from Christopher Lombardo