Nextdoor caps a busy year with a Cheer Map
The neighbourhood-based social app saw its audience increase 189% this year, with Calgary showing strong growth.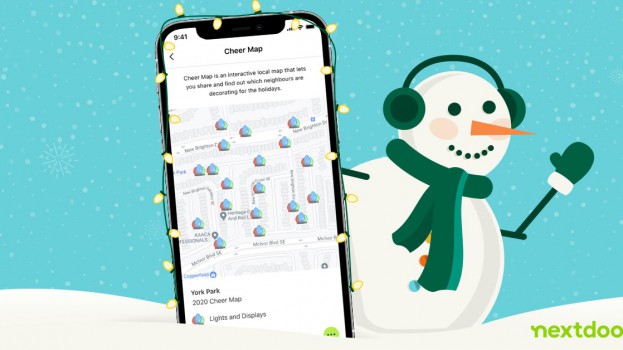 Neighbourhood-focused social media app Nextdoor is launching an interactive Cheer Map, which it hopes will further engage its Canadian audience and attract new users.
Available in December across Canada (as well as the U.S. and Australia), the new feature lets neighbours know who will be decorating for the holiday season with a "lights and displays" icon over their home on Nextdoor's neighbourhood map.
Nextdoor Canada managing director Christopher Doyle told MiC the company is doing a national promotion with digital ads, plus an OOH focus on Calgary with two billboards. Since the company launched in September 2019, Calgary has been one of Nextdoor's most engaged cities and represents an area where it continues to see tremendous growth.
"Nextdoor is based on proximity versus preference, and the Cheer Map is another example of how Nextdoor is trying new ways to help neighbours safely come together to build meaningful connections," Doyle said.
Doyle says during the first wave of the pandemic the company saw an 189% increase in daily active users, with a growing number of Canadians using Nextdoor to offer help and share information. The company saw a 15x increase in conversations on the platform regarding supporting local businesses, he says. In November, the app partnered with RBC for "Open for Business Powered by RBC," with Nextdoor offering new features such as business posts and local deals.
In August, Nextdoor unveiled its first sponsorship deal in Canada, becoming the presenting sponsor of Canadian Elite Basketball League (CEBL) games.