Dentsu prepares to restructure after a tough Q4
Organic growth was down 11.6%, but plans for permanent cost reductions and a simplified structure are now underway.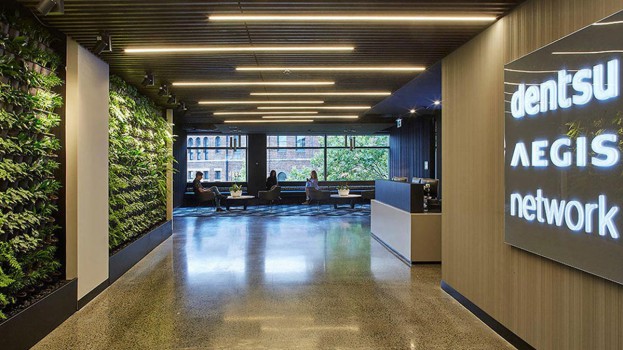 None of the major advertising holding companies have had it easy, but Dentsu was hit particularly hard in Q4. Now, the network is aiming to create a more stable balance sheet beyond the pandemic as it begins to restructure over the next two years.
Organic growth was down 11.6% for Dentsu in Q4, ahead of the previous two quarters but still below expectations. Organic growth for operations in its home country of Japan was down 9.9%, with its international division declining 13.2%.
Internationally, Dentu's media agencies recorded a 15.6% dip in organic growth year-over-year, while creative agencies had an 18% decline. CXM, which contains its data and analytics practice, declined by only 3.2%, with the company saying it is primed for a revenue turnaround in the Americas this year. Performance media in the Americas was also an area of strength, with Dentsu saying more clients were looking for personalized solutions, but overall media spend from clients continued to be scaled back and creative revenue suffered from a reduction in project-based work.
Dentsu also provided a few more details about its previously announced plans to restructure. Over the next two years, the company will move from 160 agencies in its international division to six "global leadership brands," a preview of which came last year with the merging of creative networks Dentsu and Mcgarrybowen. In December, Dentsu cut 6,000 jobs globally as part of this effort, representing 12.5% of its workforce, delivering the equivalent of roughly CAD$656 million in permanent annual cost reductions.
Moving forward, the company's main goals in the restructuring are to simplify its structure, lower expenses and create a more "efficient" balance sheet to deliver value for shareholders.
The main market opportunity the company has identified outside of Japan – and what it presents to investors – is to use "idea-led, data-driven and tech-enabled solutions" to grow relationships with clients. That means evolving its client proposition to be more flexible, incorporate data capabilities and consumer intelligence, with its CXM division pegged as a key growth driver and focus for future M&A.
The company's other agency brands in Canada include media agencies Vizeum, Dentsu X and Carat, sponsorship and experiential agency MKTG, digital agencies Isobar and 360i, performance marketing agency iProspect, as well as creative shop Grip.