Instagram launches group livestreams
Live Rooms are the latest feature on the platform's streaming option, drawing comparisons to Clubhouse.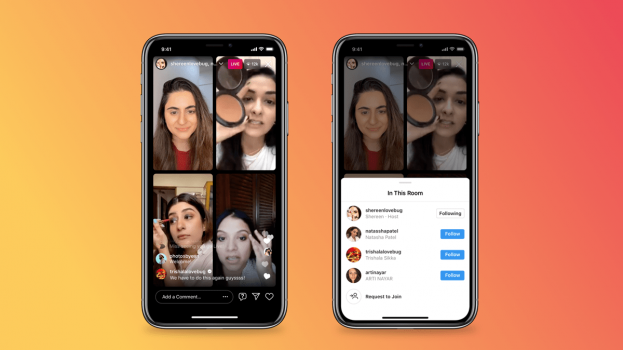 Instagram is letting users host group live-streams with the launch of Live Rooms, hosting the kinds of discussions that are inviting comparisons to up-and-coming social platform Clubhouse.
Launching today in several markets, including Canada, the new feature allows a Live broadcaster to add up to three guests to their room, putting them on-screen to host Q&As and virtual events for followers watching along, or simply hosting a hangout between friends. It will also notify followers of guests, potentially increasing the host's reach to new audiences.
Previously, users were only able to add one other guest to their livestream. The ability to add more people to a stream at once – particularly when it comes to influencers and celebrities – is inviting comparisons to Clubhouse, the audio platform that has become host to thought leaders and celebrities.
There are some key differences between the two offerings, however. Clubhouse allows up to 10 guests, compared to Live Rooms' four. Live Rooms also offers video, while Clubhouse is audio-only, though that may not be a draw for users who might prefer to not be on camera.
There is also Instagram's established audience across platforms, while Clubhouse is currently invite-only and only available on iOS. Instagram's existing popularity with influencers could also help give it a leg up on the still-growing Clubhouse, especially when it comes to topics like art, beauty, travel, home design and social issues, areas where influencers are highly active on Instagram, compared to the tech, entrepreneurs and celebrities who have been Clubhouse's biggest advocates so far. Instagram also mentioned the content moderation tools and policies that would be in effect for Live Rooms; Clubhouse has faced criticism for its lax moderation.
In either case, the competition for Clubhouse is heating up: Instagram parent company Facebook has been said to be developing its own competing option (it's unclear whether or not Live Rooms is related to those plans) and Twitter's Spaces feature is currently being rolled out.
For Instagram's part, this is the latest in a number of features it has added to its Live broadcasts over the last 12 months, including the ability to add shopping functionality by tagging products featured in a stream.