Open Farm signs on with the Blue Jays
The premium pet food brand is betting on Blue Jays baseball to solidify its community ties.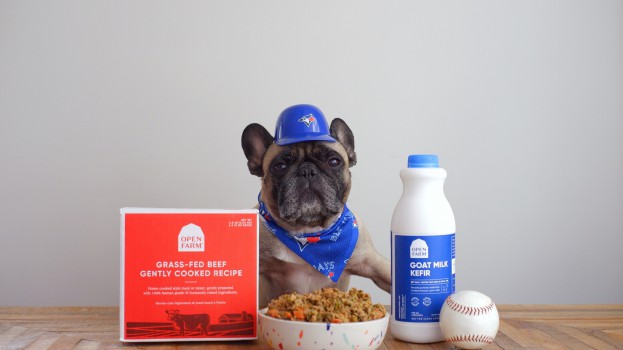 Open Farm, a Toronto-based premium pet food brand, is the latest brand to sponsor the Toronto Blue Jays for the 2021 Major League Baseball season.
To officially kick-off the partnership, Open Farm will take over the Blue Jays' homepage on National Pet Day, April 11, when the Open Farm logo will also be seen behind home plate, on digital media signage, and on the Jays' social media channels.
Since launching in 2014, Open Farm has extended its presence to over 5,500 neighbourhood pet stores across North America.
Open Farm worked directly with the Toronto Blue Jays to develop the partnership and also handles most of its creative in-house.
Evan Shuster, VP marketing for Open Farm, says this "new and exciting partnership" was born out of discussion with the Toronto Blue Jays around how the homegrown, premium brand could deliver unique experiences to the organization's pet-owning fans.
Shuster says supporting the home team strengthens Open Farm's ties to the community. "The Jays have one of the most engaged and followed social properties in sports in Canada. They bring an excited fan base and pets are also one of the top interests for Toronto Blue Jays fans," adding that they over-index against the general population when it comes to interest in pets.
According to Narrative Research, over one-half of Canadians have a pet in their household, with adoption rates rising since people have been at home more. Among pet owners, 18% say they obtained a new pet since the start of the pandemic.
Throughout the baseball season, there will be a co-branded retail promotion, a gift with purchase through select neighbourhood pet stores throughout Canada. Fans can also expect to see co-branded social media content across channels such as Facebook and Instagram as well as special email offers from Open Farm for Jays fans.
Other social media content will include a variety of 'Healthy Game Day Snacks' for dogs, using Open Farm's premium nutrition products, for recipes that will rival humans' game-day fare.
Open Farm creative content will appear on the Blue Jays' website, via co-branded email to the fanbase, and Instagram posts. In addition, Open Farm social channels, email, and the Open Farm homepage will feature co-branding and messaging.
Premium lubricant brand Valvoline also signed a sponsorship deal with the Blue Jays in March. In addition to co-branding on Valvoline social channels, Valvoline will be seen on outdoor vinyl and digital boards, consumer ads, the Jays' yearbook ads, and behind home place at 80 regular season home games.