GE sponsors CF Montreal to extend support of Canadian soccer
The appliance maker is also an official partner of the Toronto FC and the Vancouver Whitecaps.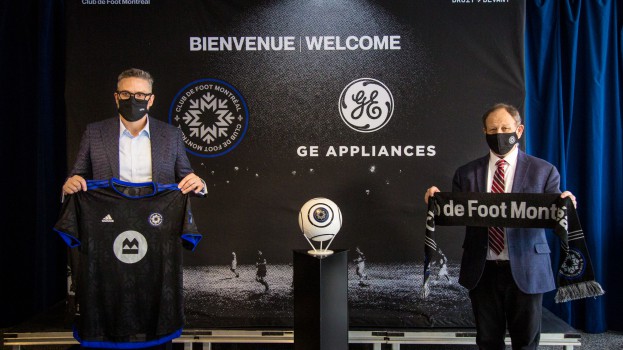 GE Appliances Canada is staking its claim to soccer in Canada by entering into a new three-year partnership with CF Montréal. The appliance manufacturer is now an official partner of all three Canadian MLS teams: Toronto FC, Vancouver Whitecaps, and now CF Montréal.
Bob Park, chief of brands for GE Appliances Canada, says, "Our support of the sport of soccer in Canada is a huge opportunity for GE to connect with a younger, more diverse and passionate audience of players and fans."
With 12 million fans and more than one million active participants through 1,200 clubs across Canada, soccer continues to be one of the most popular and accessible sports in the county. "Soccer is perhaps the most inclusive sport in the world, all you really need is a ball and a passion for the game," says Park.
"It has always been our intention to partner with all three Canadian MLS teams to create a truly national commitment to the beautiful game in Canada," Park says. "We know that each team brings its own unique and vibrant communities of supporters with them and we want to be a part of that at the national level and in a way that goes beyond in-stadium signage and leans into playing an active role within each community."
In addition to in-stadium signage and branded co-marketing, the new agreement includes GE support Club Academy and Soccer Quebec youth development through CF Montréal. The club will also work with the brand to create the GE Player of Quality Scholarship, which will give deserving kids access to the club's soccer schools and camps.
GE Appliances Canada first stepped onto the pitch in 2019 with a partnership with Toronto FC. Today, the brand has an active presence at BMO Field and on the team's jerseys – the brand is Toronto FC's first-ever sleeve patch sponsor – as well as within the club's youth development programs, including Toronto FC Academy.
The Vancouver Whitecaps partnership, which launched in early 2020, allows GE to highlight new and up-and-coming players being brought up through the west coast team's development programs.
Extending support of soccer beyond team partnerships this season, GE is kicking off a season-long partnership with TSN. During select Canadian MLS matches on TSN, GE will deliver fans customized 'Player of Quality' vignettes and themed features within TSN's Digital SportsCentre.
"We want to go beyond being a traditional sports sponsor to being one of the biggest champions of this game in Canada," says Park. "From our first partnership with Toronto FC, our intent was always to expand this onto the national stage. As Canada's top viewed sports broadcaster and the exclusive MLS broadcaster in English Canada, the TSN partnership is going to allow us to showcase our passion and dedication to soccer to Canadians from coast-to-coast."
Jonathan Osorio, Toronto FC midfielder and one of Canada's premiere players, has also signed with GE to promote the game in Canada. One of the first activations in that partnership will be a new 30-second ad spot featuring Osorio that will run on TSN throughout the season.