Tangerine signs on with the WNBA
The bank steps up it involvement with basketball as the league's first "foundational partner" in Canada.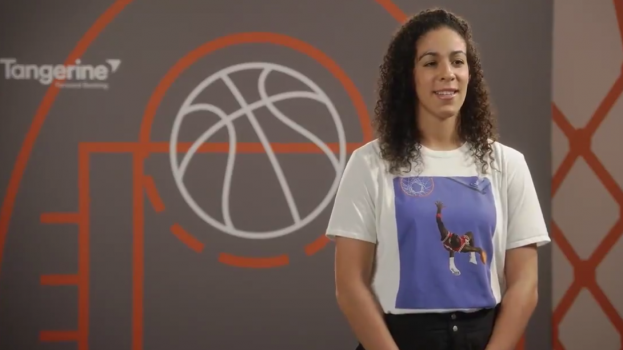 This Friday will not only be the tip-off of the WNBA's 25th season, but also a multi-year partnership with Tangerine as the basketball league's official bank – and its first foundational partner in Canada.
Tangerine's presence will be seen through broadcast and digital buys and in-arena signage. The partnership will also be promoted on all of Tangerine's social channels (mainly Twitter, Facebook and Instagram) and amplified on the company's website.
Martin Fecko, chief marketing officer at Tangerine, describes becoming the WNBA's first sponsor in Canada as "a natural step" in its ongoing support of basketball in Canada, namely as the official bank of the Toronto Raptors since 2018. At the time that deal was established, it was the largest sports-related marketing parent company Scotiabank had ever done.
The bank now plans on making the WNBA part of that, including by extending its existing @TangerineHoops content calendar and social channel, which educates followers on teams, players and league news, while also activating through contests and giveaways. Tangerine also plans to integrate WNBA partnership elements into its community gyms, and programs such as Lady Ballers camp, a not-for-profit charitable organization that develops girl-centred programs .
Fecko could not provide specifics just yet about future advertisements, but says Fecko there are future plans to further amplify the partnership through paid buys, as well as integrating WNBA messaging into its existing Raptors and NBA media placements.
But beyond ad space, Fecko says the partnership will also be aimed at helping to create a sense of inclusion in competition and entertainment, with a commitment to diversity, equity and social responsibility. For every mention of the league's "#CountIt" hashtag during WNBA Opening Weekend on Twitter, Facebook and Instagram, Tangerine will donate one dollar to Kids Help Phone, up to $25,000.
Hamilton-born Kia Nurse (pictured) of the WNBA's Phoenix Mercury will partner with the brand as an ambassador to help empower communities through youth in sport. Nurse will join in events throughout the year and take part in community investment initiatives focused on leadership, engagement and mentorship.
The WNBA season opener will be broadcast on Sportsnet One and SN NOW, with the remainder of the season split between Sportsnet, TSN and NBA TV, as well as on-demand through WNBA League Pass, with a handful of games this season live-streamed on Twitter. On Monday, TSN will also be airing "144," an ESPN-produced documentary about the 2020 WNBA season, which took place within a "bubble" in Florida due to the COVID-19 pandemic.
Though full-season Canadian ratings for last year's season are not available, the WNBA said last fall that increased national broadcasts in North America had grown its audience by 68%.