Behind the Globe's podcast partnerships
The publisher is not only building branded content, but developing subscriber opportunities with new audiences as well.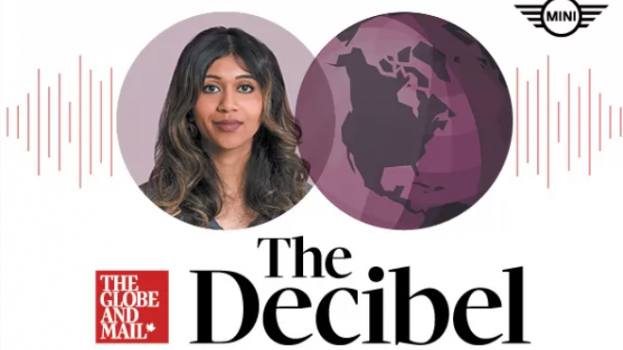 As podcasting and audio formats explode in popularity, the Globe and Mail is building its podcast and related sponsorship offerings for brands, while capitalizing on the format's ability to attract younger-skewing, urban subscribers.
While the publisher has been producing podcasts for some time through the Globe Content Studio, it launched its first daily news podcast, The Decibel, last week, sponsored by Mini to build awareness around its new electric vehicle.
The new show is hosted by the Globe's Tamara Khandaker and explores a new topic in depth every weekday morning, targeting "young, urban professionals," says Tracy Day, managing director, creative studio and ad innovation for the Globe and Mail Media Group.
"This sponsorship is a foundational element of Mini's spring electrification campaign," says Eleanor Bothwell, media account director at Media Experts, Mini's media agency, noting that this is the first time Mini has sponsored a podcast series launch. "Electrification is a big topic. It requires education and information, and this plan is positioned to inform [audiences] about the Mini Cooper SE, and is integral to driving awareness in the Canadian marketplace."
The sponsorship spans the first 40 episodes of The Decibel, starting in May and running until the end of June, "and they'll have an opportunity to continue," Day says, when the partnership runs its course, noting that the automaker is also running other custom content programs with the Globe on other platforms.
"Mini is a social brand – it wants to connect with its community and people who have like-minded beliefs. And it wants to reimagine city life," explains Adam Wexler, national manager, Mini Brand Communications. "The Globe and Mail's young, urban professional audience is a great match for Mini. They care about the world around them, as Mini does. The hope is that getting in front of this audience will ignite their passion for taking care of their world and tap their thirst for knowledge."
The podcast and the partnership itself is amplified by the Globe's built-in audience – with co-branded print and digital ads, subscriber mailers, as well as through its alliance partnerships including Canadian readers of publications like the Wall Street Journal, the Washington Post and the Guardian – and social network.
And while it is well-suited to Mini's electrification campaign, "we're taking advantage of those audience building opportunities," Day says. Everything is about the audience built around it, Day admits, but in this case she says The Decibel is different because it's actively positioned not only to raise awareness around Mini's campaign, but also getting new audiences to subscribe to the Globe itself.
While Day couldn't speak to specific podcast metrics yet, as it launched two weeks ago, she was able to say that The Decibel has been included in top ten lists from both Spotify and Apple Podcasts.
Other Globe Content Studio podcast partnerships have included the Canada Pension Plan Investment Board, which has been sponsoring the third season of Rob Carrick's personal finance podcast Stress Test featuring personal finance stories across the county. HSBC sponsors The Growth Effect, focused on launching and scaling a business, which is just finishing off season two. CPPIB negotiated its sponsorship directly, with HSBC working through its media agency Touché.
Additional podcasts and partnerships are reportedly in the pipeline.