Genesis Motors and TSC make car shopping easier
A one-hour special called TSC Auto Motives with Emma Hancock targets women and makes the car-buying process easier and more accessible.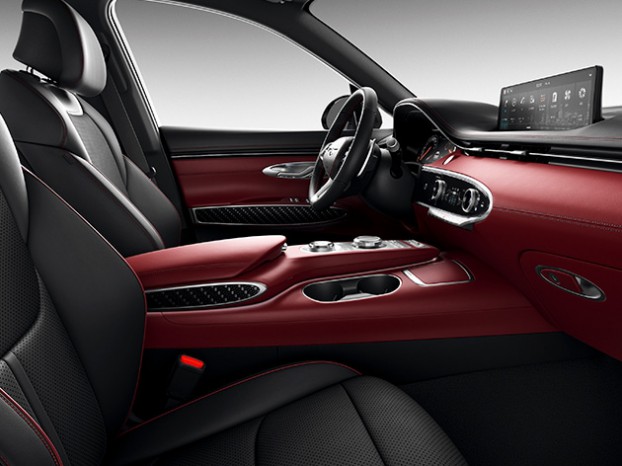 Aiming to engage and empower more women in the car purchasing process, Genesis Motors Canada has partnered with Rogers Sports and Media's Today's Shopping Choice (TSC) platform for a one-hour special called TSC Auto Motives with Emma Hancock.
The activation is designed to provide Canadians with a new way to shop for a car from the comfort of their homes, helping consumers learn about the latest vehicles, regardless of their level of automotive knowledge. More specifically, the Auto Motives special targets a female audience, as women reportedly influence nearly 85% of all vehicle purchases but often find the process to be stressful and challenging, according to a statement from Genesis Motors Canada. The show features Genesis' new GV70 SUV and host Emma Hancock, a partner at ad agency Heroes & Villains who is also an automotive expert and influencer with her platform The Cargurl. 
"TSC is both a retailer and a media company," says Nyla Ahmad, president of TSC. "The nature of shoppers on TSC, and the essence of what we do, is that people buy things sight unseen." The TSC platform – both the national linear broadcast, seven-days a week, 17 hours per day, and the website itself – make the customer journey easier and more enjoyable, she explains, which made the partnership with Genesis a good match.
The partnership not only provides a different purchasing process – an evolution of ecommerce, which Ahmad calls video commerce – but it also puts the Genesis brand in front of TSC's native audience. The platform sees 500,000 active shoppers through the course of a year, Ahmad says, but she is also bringing the full weight of Rogers Sports and Media's data offering to bear for the partnership, leveraging data and supporting the activation through "an extensive and integrated media buy across Rogers Sports and Media channels," she adds. Emma Hancock and the show have been featured on Breakfast Television, Cityline and on the radio.
"We are leveraging the megaphone that we have with Rogers Sports and Media," she says, adding that on the data side they are able to support the campaign by targeting through "the luxury lens, the female lens and the prospective car buyer lens," across all Rogers' channels.
Rex Yulo, marketing lead at Genesis Motors Canada, says the brand is still considered new, so while actual conversions and car sales are always the goal, Yulo says the goals around the TSC partnership include building brand affinity, collecting leads and building an audience that is more female focused.
The automotive brand is already different than most, with an online direct-to-consumer model that facilitates test drives at consumers' homes, provide vehicle delivery upon purchase and incorporate all-inclusive pricing removing the need for negotiation. Other Genesis models have typically skewed male, Yulo admits, but the new GV70 SUV should appeal to both men and women, so when TSC approached them with the opportunity, Genesis was on board.
As far as where this particular activation fits in Genesis' overall media spend, Yulo says each year the brand earmarks a percentage of its budget for "innovative opportunities." A majority of its media spend focuses on digital, since all transactions occur online, but Yulo says they've experience the most success with a mix of channels, especially when they've mixed in OOH – they have a partnership with GTAA at Toronto's Pearson International Airport featuring Genesis products on signage and boards – TV, video and print, which Genesis manages through its AOR, Innocean.
Yulo adds that the partnership with TSC does represent one of the brand's largest investments to date, within the context of its earmarked yearly "innovative" activation budget.
TSC is offering an exclusive, limited-time offer valued at $2,000 – running from July 7 to July 15 – to viewers who purchase a GV70. Customers will receive a $1,250 Genesis accessories credit to use on their new vehicle and a $750 TSC gift card.
The Auto Motives special will air Thursday, July 8 at 8 p.m. ET on TSC.