America's Got Talent and sports on top: Numeris
While AGT nabbed the top single-day viewing totals, Stanley Cup Finals and quarter final soccer grabbed a lot of attention.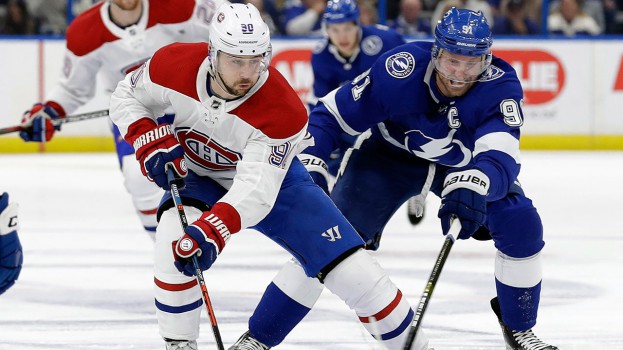 While America's Got Talent kept its top TV spot across the country for single-day viewing with an AMA of 1.22 million viewers, the Stanley Cup Finals between the Canadiens and the Lightning captured overall viewing across multiple nights, with CBC logging 1.81 millions viewers across the first three tilts, and Sportsnet recording 1.43 million viewers, according to the latest data from Numeris for the week of June 28 to July 4.
Euro 2020 quarter final coverage between Italy and Belgium on TSN took in 738,000 viewers for fourth nationally, behind Masterchef in second, and HGTV's Island of Bryan in third.
A L'affiche Dimanche on TVA took the top in French Quebec with 655,000 viewers, followed closely by Hopital New Amsterdam. SRC's L'epicerie was the only non TVA show in the top five for the week.
The Euro match between Italy and Belgium took first in Toronto's TV market, with the match between England and the Ukraine in third, bookending America's Got Talent in second.
Simalar viewing was echoed in Montreal, with AGT on top, followed by the two Euro 2020 quarterfinal matches.
Island of Bryan was number one in Edmonton, followed by AGT and reality mini-golf series, Holey Moley.
The Bachelorette made the top five in Toronto and Calgary, and The $100,000 Pyramid popped up in fifth nationally, and fourth in Vancouver.
National
America's Got Talent on Citytv Tuesday at 8 p.m.: 1.22 million viewers
Masterchef on CTV Wednesday at 8 p.m.: 829,000 viewers
Island of Bryan on HGTV Sunday at 8 p.m.: 767,000 viewers
EURO 2020 Quarter Finals Italy vs. Belgium on TSN Friday at 12 p.m.: 738,000 viewers
The $100,000 Pyramid on CTV Wednesday at 9 p.m.: 607,000 viewers
Francophone
A L'affiche Dimanche on TVA Sunday at 7:30 p.m.: 655,000 viewers
Hopital New Amsterdam on TVA Tuesday at 8 p.m.: 649,000 viewers
Les rénos d'Hugo on TVA Thursday at 7 p.m.: 560,000 viewers
LOL on TVA Sunday at 7 p.m.: 550,000
L'épicerie on SRC Wednesday at 7:30 p.m.: 548,000 viewers
Toronto/Hamilton
EURO 2020 Quarter Finals Italy vs. Belgium on TSN Friday at 12 p.m.: 380,000 viewers
America's Got Talent on Citytv Tuesday at 8 p.m.: 339,000 viewers
EURO 2020 Quarter Finals England versus Ukraine on TSN Saturday at 12 p.m.: 236,000 viewers
The Bachelorette on Citytv Monday at 8 p.m.: 199,000 viewers
Island of Bryan on HGTV Sunday at 8 p.m.: 199,000 viewers
Montreal
America's Got Talent on Citytv Tuesday at 8 p.m.: 50,000 viewers
EURO 2020 Quarter Finals Italy vs. Belgium on TSN Friday at 12 p.m.: 44,000 viewers
EURO 2020 Quarter Finals England versus Ukraine on TSN Saturday at 12 p.m.: 31,000 viewers
CTV Sunday Movie on CTV Sunday at 7 p.m.: 27,000 viewers
Coronation Street on CBC Friday at 5 p.m.: 27,000 viewers
Edmonton
Island of Bryan on HGTV Sunday at 10 p.m.: 68,000 viewers
America's Got Talent on Citytv Tuesday at 9 p.m.: 54,000 viewers
Holey Moley on CTV Thursday at 10 p.m.: 48,000 viewers
Global News Morning on Global Sunday at 7 a.m.: 45,000 viewers
Highway Thru Hell on CTV Saturday at 10 p.m.: 38,000 viewers
Calgary
America's Got Talent on Citytv Tuesday at 9 p.m.: 58,000 viewers
Island of Bryan on HGTV Sunday at 10 p.m.: 47,000 viewers
The Bachelorette on Citytv Monday at 9 p.m.: 40,000 viewers
Alone on History Thursday at 10 p.m.: 39,000 viewers
Nurses on Global Monday at 10 p.m.: 38,000 viewers
Vancouver/Victoria
America's Got Talent on Citytv Tuesday at 8 p.m.: 186,000 viewers
60 Minutes on Global at 7 p.m.: 104,000 viewers
Border Security on Global Saturday at 7 p.m.: 100,000 viewers
The $100,000 Pyramid on CTV Wednesday at 9 p.m.: 93,000 viewers
Global News Morning on Global Thursday at 6 a.m.: 90,000 viewers