Spotted! Subaru builds an outsized OOH
The automaker conveys the size of its latest SUV, with a poster too big for its frame.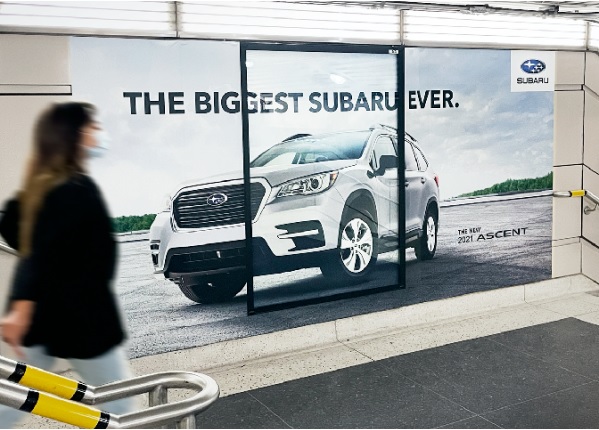 Subaru Canada believes bigger is better, especially when it comes to custom-built OOH that exceeds the size of traditional media space.
The campaign, which includes a poster that needed to be custom-fitted to be curved into regulation metal frame, is designed to draw attention to the 7-8 seater SUV in the company's lineup, the latest iteration of its Ascent.
Zulu Alpha Kilo led the strategy and creative development, in close partnership with Pattison Outdoor, for the summer indoor OOH campaign.
David Tremblay, the shop's group business director, tells MiC the challenge was that it needed to ensure people understood just how big the three-row vehicle is.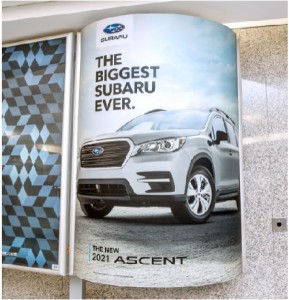 "The idea for this media space was to deliver stopping power in an enclosed environment," Tremblay says.
In January, through a broad campaign launch, Subaru positioned the vehicle around how large it is, with a backseat sibling rivalry spat, and the idea for an eye-catching OOH was presented. With the second wave of media this summer, there was room, so to speak, to add it to the mix.
And then, Tremblay says, Zulu Alpha Kilo worked with Pattison (through Subaru's media AOR, OMD) to figure out what could be achieved creatively to executive the larger vision.
"Once we asked those 'what if' questions, we learned quickly that there was a way to push beyond the original specs," he says. "What made the creative so impactful was that we made the car look like it was bursting through the canvas."
According to Tremblay, the visual component was pivotal because it had to defy convention and not look like anyone else could have done that.
They focused on high-traffic indoor placements to effectively leverage the extended space around the installations, Tremblay explained. "If we had done a traditional jumbo billboard or a TSA, the lead time and costs to extend the placement would have been far more expensive and longer to produce. By choosing these placements, we were able to be more efficient, while creating the high impact and stopping power we wanted to achieve."