Desjardins signs on for Hometown Hockey
The financial brand will have on-site integrations and in-broadcast features during each of the tour's stops.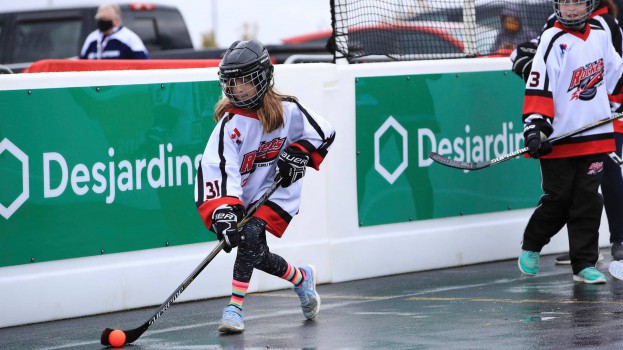 Desjardins, a long-time partner of NHL and community hockey in Quebec, has signed on as the co-presenting sponsor of Rogers Hometown Hockey for the 2021-2022 season.
Desjardins is co-presenting partner with Hyundai, along with returning title sponsor Rogers, for a 25-game cross-country season that began this past weekend in North Dumfries, Ontario.
As part of the multi-year deal with Sportsnet, Desjardins' sponsorship will include brand advertising, custom-created integrations, and live, in-game features that will run across both Sportsnet's national broadcast and Rogers Sports & Media digital media properties.
The partnership, the company says, gives Desjardins a heightened focus at the community level that allows the company to increase its presence within the communities it services and help deepen its connection to minor hockey. This includes the sponsorship of the Hometown Hockey ball hockey rink, a key focal point of the events that boosts its onsite presence throughout the Rogers Hometown Hockey tour across Canada.
The program was initiated by Desjardins' agency, Glassroom. What made this an interesting opportunity for Desjardins, says Sylvain Marcoux, director of marketing, media, donations, sponsorship and branding at Desjardins, was how the mission of Rogers Hometown Hockey aligned very closely to Desjardins' corporate values and approach to community.
"The concept of going into a new town or city each week and having the opportunity to connect with hockey fans at a grassroots, community level and really being there as part of this celebration where communities showcase their spirit and pride was what really drove our initial interest and led us in the development of this partnership."
The Rogers Hometown Hockey broadcasts, hosted by Sportsnet favourites Ron MacLean and Tara Slone, will now take place every Monday evenings, live from a central location in the host community. Local hockey fans will be able to take in the sights, sounds and spectacle of a national broadcast in their own backyard, in accordance with local health guidelines.