Former Toronto Star publisher John Honderich dead at 75
News of his death reverberated throughout the Canadian media industry and beyond.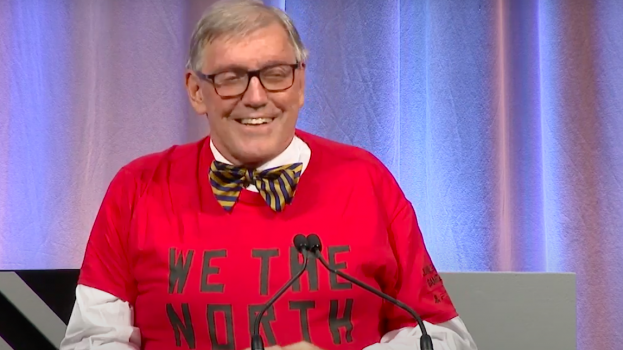 Former Toronto Star publisher John Honderich died at the age of 75 on Feb. 5. His son Robin told the Star his father died of a heart attack.
Honderich, who was known for his signature bow tie, also served as chair of Torstar Corp. until it was sold to NordStar Capital in 2020.
Newspapers were a family business for Honderich. His late father Beland Honderich was also a former Star publisher and the paper was partly owned by his family until the sale to NordStar. He began his newspaper career as a copy boy at the Ottawa Citizen in 1973 and joined the Toronto Star as a reporter in 1976. He went on to become chief of the Star's Ottawa and Washington bureaus and, after serving as deputy editor, he was appointed business editor in 1984. He was editor-in-chief from 1988 to 1994, before becoming publisher in 1995 – a role he held until 2004.
During his time as publisher, Honderich oversaw a number of major strategic initiatives at the paper, such as launching its online presence and maintaining ad rates during a time when its competitors began a period of deep discounting. The paper also maintained stable readership and circulation numbers as both began to decline elsewhere in the industry.
Honderich was also chair of The Canadian Press from 2001 to 2004 and became chair of Torstar in 2009.
During his time as publisher, the paper won dozens of awards including three Michener Awards for investigations into spousal abuse in Ontario, problems with the provincial health care system and racial profiling.
News of his death reverberated throughout the Canadian media industry and beyond. Former colleagues rushed to sing his praises and remember him for his contributions to journalism. Michael Cooke, the former Star editor, told the paper, "He defended journalists. He defended the reporters. And he defended the story, all his life."
Prime Minister Justin Trudeau tweeted that Honderich was a "giant of Canadian journalism who deeply believed in building a better Toronto – and a better Canada."
Toronto Mayor John Tory remembered Honderich as someone who "truly believed in Toronto, our city's promise and its unique place in the world."
Tory tweeted, "He was passionate about the Toronto Star and how big a part quality journalism had to play in building a Toronto which was strong and prosperous but also inclusive and fair."
Honderich was a member of the Order of Canada, the Order of Ontario, and the 2019 recipient of the Canadian Journalism Foundations Lifetime Achievement Award.
While accepting the CJF award, he spoke of the ongoing crisis in journalism and emphasized the link between quality journalism and a healthy democracy. "The best ammunition against lies is the truth," he said in his acceptance speech, quoting Ernest Hemmingway, who worked as a reporter for the Star in the mid-1920s.
He is survived by his sister Mary, brother David, his children Robin and Emily, and his two grandsons Sebastian and George.