Publicis Media makes its pro bono program for local businesses annual
Conceived during the pandemic, the agency plans to support 10 local businesses with OOH campaigns.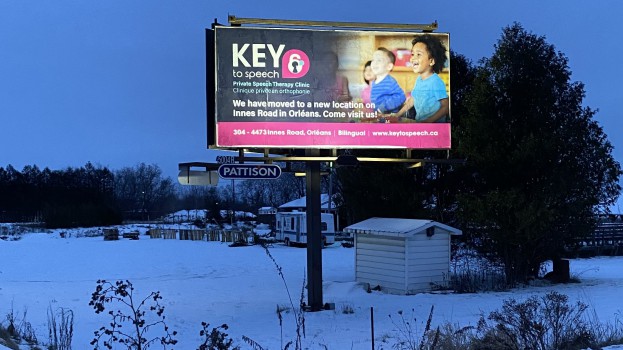 One of the things that the pandemic has taught Canadians is the importance of small businesses in our communities. At the beginning of the pandemic, Publicis Media sought to offer support to small business owners who were most affected by shutdowns and put out a call to its employees to nominate local businesses that needed help.
Publicis Media is now making this an annual program.
The 2020 campaign featured OOH support for 30 companies, while the 2021 campaign featured 10 businesses who received fulsome strategy consultations and creative design in addition to $400,000 in media support. The campaign generated 75 million impressions (147% more than anticipated) across Toronto, Hamilton, Ottawa, and Montreal. The 2021 campaign is still in market having only started in December. Businesses include Quebec-based zero-waste grocery store, LOCO; Key to Speech, a speech therapy clinic in Ottawa (pictured above), and the podcast agency Quill Inc. 

Many of the companies selected for the program are BIPOC or women-owned across industries from health to bakeries and lifestyle shops. According to David Rusli, chief strategy and data officer for Publicis Media, the initiative is the agency's latest endeavour to support its community. Last year, Publicis Media provided monetary support to three charities and also introduced a charitable matching program for employees.
"Small businesses are the cornerstone of our communities and Publicis Media is committed to serving its community, especially those in underrepresented industries," says Rusli. "Many of us personally know small business owners impacted by the pandemic so it's an amazing feeling to work on a campaign that has tangible impacts to these small business owners."
The 2022 version of the campaign will begin in the upcoming months and new businesses will be selected to receive the media consultations and dollars. The agency will go through the same nomination process this year and will likely work with 10 companies again. The campaign will launch in November ahead of the holiday season, a timeline that allows Publicis Media to provide more in-depth consultations with each business to truly understand their needs.
Pro bono work is a core pillar of Publicis Media, and the agency recently launched a partnership with DMZ (Ryerson Digital Media Zone) to support start-ups. This is a separate initiative run by Publicis Media also intended to support local businesses. In this partnership, they provide pro-bono strategic consultations to the DMZ, host a library of courses, offer office hours, webinars, and workshops across several areas of expertise to bring media and marketing knowledge to the development of key start-ups. Over the years, the agency has provided $6 million of pro bono media value.