Metrolinx still seeking sponsors for GO station naming rights
The company looks to new revenue opportunities while it recovers from the effects of the pandemic.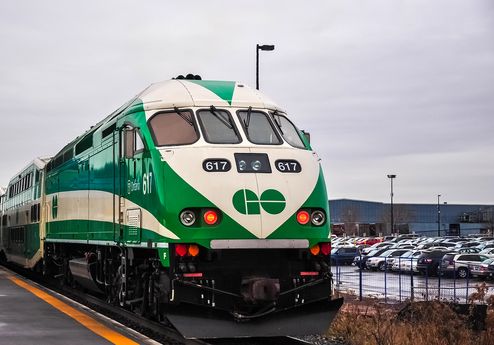 Metrolinx is still considering selling the naming rights to several GO Transit stations in Ontario.
In mid-February, the provincially-owned agency that oversees GO and UP Express issued a request for proposals to gauge private sector interest in station naming rights at four station stops – Clarkson, Exhibition, Oakville and Whitby – and said it will consider proposals for other stations.
"Station naming has been part of a strategy to enhance transit and customer experience by generating new forms of non-fare revenue," says Fannie Sunshine, spokesperson for Metrolinx. "We're always exploring how partnerships like this play a role in improving and expanding our services and enhancing our overall customer experience. We are particularly encouraged by these new revenue opportunities as we start to recover from the effects of the pandemic on our ridership."
When the company first proposed selling the naming rights to stations in 2019, Metrolinx said naming rights would apply for a minimum of five years and a maximum of 10. For partners, they will receive category exclusivity for select stations, opportunities to provide co-branding opportunities with GO, the right to use GO Transit's branding, logo and imagery in marketing promotions and opportunities for experiential activation such as branded areas within buildings, retail space (permanent or pop-up) and other onsite promotions. A spokesperson for the company said the benefits to potential partners remain the same.
 Metrolinx had been developing an evolving business model and eyeing growth as a media property, but ridership levels and non-fare related revenue have significantly declined due to the pandemic and have yet to rebound to pre-2020 levels.
In its annual report released in August, the company reported that non-fare related revenue, which includes partnership and advertising revenue, decreased to $50.5 million compared to $132.3 million the previous year. The company also reported that advertising revenue decreased by 54.8% to $4.2 million in 2020-21, while partnership revenue decreased 38.2% to $2.6 million.
Ontario is not the only region mulling the prospect of corporately-branded transit stations. In November, Washington D.C.'s Metro announced it would sell the naming rights to its newest subway station, while the Metropolitan Transit Authority in New York sold its Atlantic Avenue station naming rights to Barclays in 2009. Similarly, the Southeastern Pennsylvania Transportation Authority has sold naming rights to Pattinson Station twice since 2010.