Why BlogTO is focused on social to grow its revenue
The brand recently launched two new shows on Snap Discover and has been focused on creating original content on TikTok.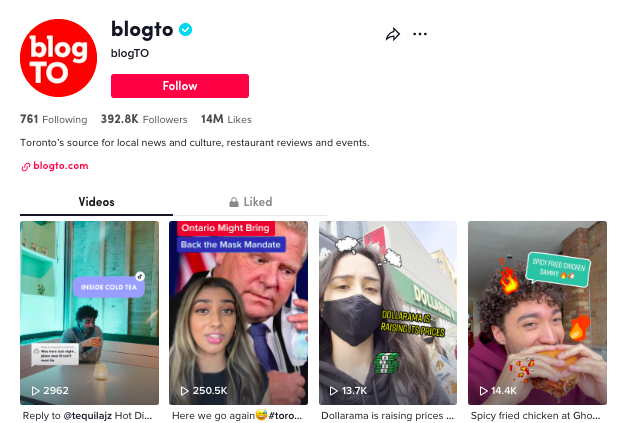 In January, BlogTO parent company Freshdaily was acquired by ZoomerMedia for $15 million.  A website known for news and lifestyle stories presented under millennial-friendly – and occasionally eye-roll inducing – headlines seemed like an odd match for a media company focused on audiences over 50.
But the 350 million page views the site had last year are a big deal for a media company in a country with a population of only 38 million people, and more impressive since BlogTO is a local news site targeting readers in Toronto and the GTA. But even with all those page views, the BlogTO website is no longer the company's main source of revenue. Like all media companies, BlogTO has had to evolve.
"We've been seeing very strong revenue growth on social media over the last few years. The majority of our revenue now comes from what we're doing on social media platforms," the site's founder and publisher Tim Shore tells MiC.
He explains that the company is able to offer advertisers with more limited budgets a range of affordable sponsored content options on social media, including sponsored Instagram stories, videos, contests and photo galleries, and can also create custom programs and executions that extend across many content channels for those with bigger budgets.
Most recently, BlogTO also began offering advertisers the ability to create sponsored videos with them on social media platforms and then extend those videos to the website through its integration with the Firework video player from Loop Now Technologies.
"In this way, we're able to create a custom video for them and guarantee views or reach across multiple platforms including, for example, Instagram, Facebook and Twitter, as well as the website so that they reach both our website visitors as well as our social media followers," he says.
The company has also looked to social platforms as a source of revenue outside of advertising. BlogTO was one of the Canadian media companies to partner with Facebook's "New Innovation Test" last year, and recently launched two weekly shows on Snap's Discover platform called Side Hustle and Bucket List, with plans to increase episode frequency going forward.
TikTok is the other platform where BlogTO has been focusing its efforts. Shore says the brand was one of the first media companies to embrace TikTok and is one of the largest Canadian media brands on the platform.
"TikTok is becoming an increasingly popular social media platform for advertisers to reach the Gen Z demographic in Toronto. We work with advertisers to create custom TikTok videos posted to our account," says Shore.
Freshdaily launched a nationally-focused website under its own brand in 2019. It has since forgone the traditional news website approach in favour of relaunching as a TikTok-specific media brand with accounts dedicated to cities across Canada, from Vancouver to Halifax and everywhere in between, as well as a national account.
The company is growing and currently hiring for a number of positions as it prepares to move into its new space at the Zoomer complex in Liberty Village in the next couple of weeks. The acquisition provides not only more resources and bigger budgets for staffing, but the opportunity to expand the BlogTO brand into mediums like radio, broadcast and print, where it doesn't have a presence.